Red Tape Challenge – Government asks hospitality, food and drink industries: 'name and shame the regulations that are holding back your businesses'
Those with a stake in the hospitality, food and drink industries get the chance today to declare war on the rules and red tape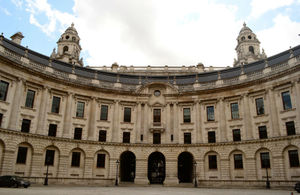 Those with a stake in the hospitality, food and drink industries get the chance today to declare war on the rules and red tape that are holding back their growth and stifling their chances of success.  These industries will get their chance for the next four weeks to name and shame the regulations they want to see scrapped, through an easy-to-access website.  
The website will give them the opportunity to say whether regulations targeted at these sectors - ranging from measures on arsenic and chloroform introduced over thirty years ago to rules on ice cream van jingles - are still necessary or are actually examples of excessive red tape.
And the ministers responsible for them will then have to justify each rule and, where the case for their existence cannot be justified, consign them to the scrapheap.  The site will also allow the industry to flag up ways in which problems can be solved without intrusive government regulations.
Former Whitbread Chief Executive Alan Parker CBE has agreed to become the champion for this theme ensuring that it delivers real results quickly.  He has also agreed to take on a longer term role as Head of the Tourism Regulation Taskforce ensuring that the wider barriers identified in the tourism strategy are dismantled. 
This work will focus on providing:
ways to develop an intelligent, evidence-based, case to government on unnecessary regulations that should be amended or repealed;
a chance to identify and review existing and proposed regulations at both the UK and EU level, where they affect tourism and the visitor economy; and
a forum for other interested parties like consumer groups and those who actually enforce the regulations to be part of the debate;
Mr Parker will lead a group made up of industry professionals who will action the feedback received during the Red Tape Challenge, and subsequently produce a report and set of recommendations for DCMS and government - in the wider context - to implement.
Tourism Minister John Penrose said:
"As the Prime Minister said last month, proper standards in things like fire safety and food hygiene are vital for us all, so regulations governing such things should obviously stay.  But everyone knows that not all rules and regulations are like this - and there are just too many petty, outdated and repetitive ones holding back business in this country.  So cutting through the red tape is absolutely central to the Government's vision for Britain, and our plans to grow the economy.  We want to be the first Government in modern history to leave office having reduced the overall burden of regulation, not increased it.
"The website that goes live today is a brilliant and simple tool for everyone involved in the hospitality, food and drink sectors to have their say, naming and shaming all the rules, regulations and red tape that are holding back their business growth and limiting their individual freedom.
"But talk is cheap.  So we are turning the bureaucratic assumptions on their heads - from now on, the presumption is that regulations will be axed, unless present ministers can absolutely justify why they should be kept.  'Stand it up, or shut it down' will be our touchstone.  And that marks a huge transfer of influence to the people who actually live and work at the sharp end.
"Alan Parker's appointment - firstly as sector champion for the Red Tape Challenge, but also as Chairman for the Tourism Regulation Task Force - is also crucial in making this happen.  The Task Force will start with the feedback received from the sector in the next four weeks and turn it into a firm action plan, with clear and deliverable recommendations."
Agriculture and Food Minister Jim Paice said:
"Global demand for food is rising and there are going to be huge opportunities for the British food and drink industries in the coming years.
"Some regulations, such as those on food safety, make sense and are welcomed by consumers.  However, the Government is committed to removing unnecessary barriers to growth and finding alternatives to regulation."
Notes to Editors
The Red Tape Challenge was launched by the Prime Minister on 7 April, giving the public a chance to have their say on the more than 21,000 regulations that affect their everyday lives.

The full address of the website is http://www.redtapechallenge.cabinetoffice.gov.uk/.

The first five themes of the Red Tape challenge campaign will be:
a. Retail (open for four weeks beginning April 7);
b. Hospitality, food and drink (beginning May 6);
c. Road transportation (beginning May 19);
d. Fisheries, Marine enterprises and inland waterways (beginning June 2nd); and
e. Manufacturing (beginning June 16).
The campaign will also have six cross cutting themes that affect all businesses and are open throughout the whole of the campaign. The six cross cutting themes are:
a. Employment law;
b. Pensions;
c. Company law;
d. Equalities;
e. Health and Safety; and
f. Environment legislation.
For each sector theme, there is an experienced 'sector champion' who will provide expert knowledge on the issues faced by those on the shop floor. The champion acts as an intermediary between the sector and Government and help to direct the web-based debates and discussions.

The Government's plan for growth (External PDF).

Biographical Note: Alan Charles Parker CBE retired as Chief Executive of Whitbread Plc on his sixty fourth birthday in November 2010 after 18 years with the company. Alan was appointed Chief Executive of Whitbread PLC in June 2004 having been a member of the Whitbread PLC Board since 2000.  Alan was educated at the University of Surrey (BSc) where he is now a Visiting Professor. He is a graduate of the Harvard Business School's Advanced Management Programme, a Director and ex-Chairman of the British Hospitality Association, a Fellow of the Institute of Hospitality, an Executive Committee member of the World Travel and Tourism Council and Non-Executive Director of Jumeirah Group LLC and Kesa Electricals Plc. Up until 2010 Alan was on the Board of Visit Britain for six years. In June 2008, Alan was awarded a CBE in the Queen's Birthday Honours List for his lifetime of service to the Hospitality Industry. His peers voted him as the 'Business Leader of the Year' 2003.  In 2007, he was inducted by his peers into the British Travel Industry Hall of Fame. He was also presented with the 'Individual of the Year' award at the Hotel Report Awards 2009. Alan was awarded the Outstanding Contribution to the Hotel Industry Award at the Hotel Cateys 2010. In March 2011 the International Hotel Investment Forum announced Alan as the winner of the Lifetime Achievement Award 2011.  Before joining Whitbread in 1992, Alan spent ten years with Bass Plc as Senior Vice President of Holiday Inn Europe, Middle East and Africa based in Brussels, and prior to that, Managing Director Europe of Crest Hotels based in Frankfurt.  Alan was born and grew up in North London where his family ran a restaurant for forty years.  Alan has a grown up son and daughter, and now lives between Surrey and Chelsea.  He is a keen yachtsman and supporter of rugby and football. After 36 years of marriage Alan was widowed in 2010.
Press Enquiries: 020 7211 2210
Out of hours telephone pager no: 07699 751153
Public Enquiries: 020 7211 6000
Published 6 May 2011