Red Devils parachute into Whitby
The townspeople of Whitby joined bereaved families of Service personnel when the Red Devils Parachute Regiment display team dropped in on Whitby Abbey.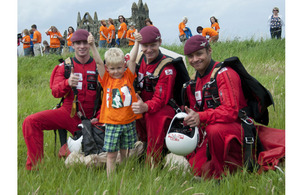 The families have been holidaying in Whitby as part of the Families' Activity Breaks (FAB) scheme which is run by the charity of the same name and provides short getaways for families who have lost somebody serving in the Armed Forces.
They have been enjoying a few days in Whitby taking part in various activities including sailing, horse riding and rock climbing. The arrival of the Red Devils who parachuted into a field in front of Whitby Abbey provided the perfect finale before the families headed for their homes all over the country.
The families and onlookers were treated to a spectacular display by the Red Devils who parachuted in with flags and red smoke flares, performing their signature triple formation before landing perfectly in front of the audience:
We are the only team in the UK that perform that manoeuvre - it is tough but the crowd like it," said Lance Corporal Nathan Connelly, the team's spokesman.
The team has been visiting the Families' Activity Breaks since they started and we enjoy being involved.
The soldiers in their maroon Parachute Regiment berets formed up and were inspected by four-year-old Henry (name withheld on request) from Nottinghamshire on behalf of the families.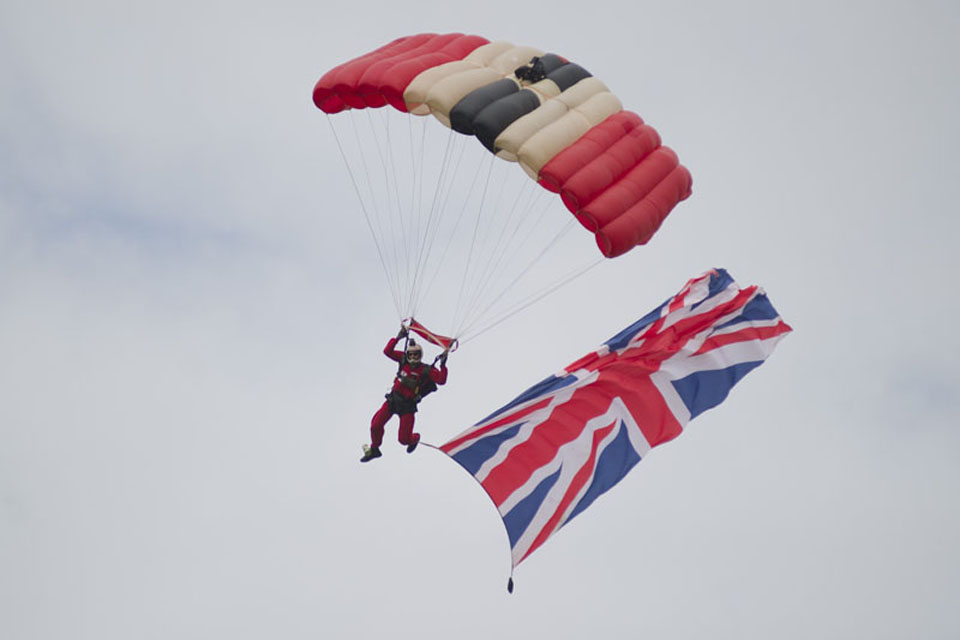 He then helped the team to fold their parachutes before all adjourned for tea and buns:
We have had a great time - we have been abseiling, canoeing, rock climbing and visited 'Flamingo Land', and even done our own version of 'FAB's Got Talent', with lots of singing, dancing and karaoke," said Cassie Taal, former partner of the late Craftsman Andrew Found, from the Royal Electrical and Mechanical Engineers, who was killed in June 2011 in an IED blast in Afghanistan's Helmand province.
This camp has been one of the best things we have done. It has helped the children to relate to other children in similar circumstances. We are getting there and we have met so many people who can really help them.
FAB is a non-public-funded, tri-Service initiative in partnership with the Youth Hostel Association (England & Wales), providing fun and challenging activity holidays around the UK for bereaved military families.
The holidays offer an adventure for all the family and a welcome break to meet and socialise with others who have experienced a similar loss.
FAB was originally conceived in early 2008, and ran as a highly successful pilot in the summer of 2009 in two locations, Coverack in Cornwall and Whitby in North Yorkshire.
It is staffed by volunteers from the Armed Forces, Defence civilians and ex-Service personnel, helping as mentors, lending a helping hand or simply being someone to talk to.
They are all trained by a bereavement counselling service who specialise in supporting children and young adults facing bereavement:
Each camp has different people, families, and the activities change year on year too," said volunteer Adrian Blanchard.
It has been fantastic to see families arrive on day one and then to see the difference in them by day seven - it is phenomenal. On the first day it is that tentative fear of the unknown and by the last day there is a camaraderie with other families and the volunteers that develops as the week develops.
I have volunteered at four FAB camps and this year's camp in Whitby has been the best so far.
The families were accommodated in the Youth Hostel adjacent to Whitby Abbey, which is atop a cliff overlooking the town:
The town of Whitby provides a wonderful welcome to FAB, our families and our volunteers and show their support in so many ways," said Lieutenant Colonel Belinda Forsythe, the project director.
Besides the Red Devils, we also had a visit by North Yorkshire Fire and Rescue who brought an appliance for the children to climb aboard which they absolutely loved.
The loss of a loved one has been a very difficult time for all the families here and it is humbling to hear mums tell us that this holiday is one of the best things that has happened following this sad time.
Published 7 August 2012