World news story
Red Cross appeals for English speaking volunteers during Consul visit in Alicante
British Consul Sarah-Jane Morris recently visited the Red Cross centre in Alicante to talk about how to make British nationals more aware of the services that they offer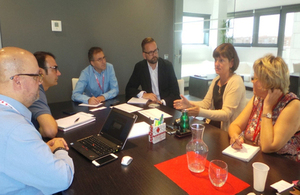 The national vice president of the Red Cross, Francisco Javier Gimeno, and provincial coordinator, Miguel Angel Rodriguez, met the Consul and highlighted some of the services they offer vulnerable British nationals, such as advice and support with accessing social services, help for sufferers of Alzheimer's and dementia, and practical help for those suffering financial difficulties.
Sarah-Jane Morris said:
There is a lot of support available from the Red Cross that British nationals may be unaware of. We want to work closely with the Red Cross and build links with local English speaking associations in the area so that more British nationals can access this support.
We also hope that Britons consider volunteering to work with the Red Cross so they can help their fellow nationals access the support that they may need.
Anyone interested in volunteering can find more information on the Red Cross website.
Published 27 July 2015