News story
Record year for UK film industry tax relief
220 films were made in the UK in 2014 to 2015 thanks to the UK film tax relief.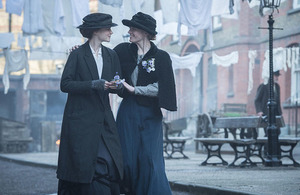 The Chancellor hailed a ground-breaking year for independent and big budget international films today (Wednesday 23 December), as he confirmed government support for the UK film industry through film tax relief had reached £251 million this year, generating over £1 billion worth of direct investment in the UK in the last year alone.
This is the most generous support ever provided by the government, reaping huge returns for the UK through a system which ultimately generates £12.49 for the UK economy for every £1 of tax relief granted.
The official statistics released by HMRC also confirmed that £1.5 billion was secured by the UK film industry through the government's film tax relief and led to over £6.9 billion investment from the film industry across the UK since 2007.
This investment has led to 260,000 full-time creative sector jobs in the UK and critical acclaim for the movies made here.
Six British films were nominated for Oscars® in 2015, and almost 20% of the industry's major film festival and industry awards for the whole 2014 to 2015 season were for British-made films, the highest since records began.
In 2014 to 2015 a record 220 films made in the UK claimed this relief.
Large scale international films such as Avengers: The Age of Ultron and home grown independent productions, such as The Imitation Game and Suffragette would have been eligible.
The Chancellor George Osborne, said:
I'm delighted that the golden age for British creative industries is going from strength to strength.

2015 was a record year for the film industry and I'm proud that our support for this fast growing sector is securing investment, boosting productions and creating jobs across the UK
Amanda Nevill, CEO of the BFI, said:
Britain loves film, and the world loves British films. The government's film tax relief generates almost £12.50 for every £1 spent and provides crucial support for UK films and filmmakers – it is a shrewd investment for the UK.

Britain's film and creative industries give us much to be proud of, with British stories as diverse as Spectre and Suffragette winning the hearts and minds of audiences across the world while creating jobs and investment at home.

The creative sector tax reliefs, alongside lottery funding through the BFI, are a catalyst for creativity and innovation in storytelling in UK independent film, and are a key ingredient in the UK's winning combination of outstanding talent and skills, world-leading studios and facilities, and iconic locations, which attracts film production from around the world.
Adrian Wootton, chief executive of the British Film Commission, said:
The UK's creative sector tax reliefs have been a tremendous success, attracting inward investment through film, television and animation while stimulating growth in jobs and infrastructure across the UK, from London, Bristol and Manchester to Scotland, Wales and Northern Ireland.

The boost they give our domestic screen industries is crucial, since the money generated by major inward investment titles helps create further training and business opportunities which allow our own independent productions to thrive, thus maintaining the UK's status as a cultural powerhouse that is both creative and highly profitable.
Independent UK productions of all budgets have benefited from the film tax relief, receiving a third of total government support.
The UK film industry's cutting edge skills in the fields of visual effects, sound production and world-class studios are making the UK an even more attractive place to make films. For example, the UK is home to many of the world's leading VFX companies including those behind award-winning films such as Gravity.
As well as its creative and technology companies, the film industry relies upon a variety of sectors from catering to security, who have also felt the positive effects of the tax relief. BFI figures show that film production supports around 40,000 full-time jobs in the UK, which is a 22% increase from 2009.
Introduced in 2007, the film tax relief was extended to 25% for films of all budget levels on 1 April 2015 to support UK film making. The relief is available to films which qualify as British productions through a cultural test or via an official UK co-production treaty.
Key facts and further information
Based on UK expenditure from films which qualified for tax relief, there was an increase of 25% in industry investment into our creative economy in comparison to 2014. UK expenditure from films which qualified for tax relief (final or interim certification for film tax relief) went from £1.297 billion in 2012 to 2013 to £1.627 billion in 2014 to 2015.
Inward investment has allowed greater collaboration between US production companies and UK films. Recent James Bond box-office smash Spectre was a UK produced – US financed film shot around the world, and across the UK, which is expected to be amongst the highest grossing films of 2015.
Other upcoming inward investment releases will include Eddie Redmayne's venture into JK Rowling world of Fantastic Beasts and Where to Find Them, the live action version of Beauty and the Beast and Knights of the Round Table: King Arthur. Plus Star Wars: Episode VIII, Rogue One: A Star Wars Story, Untitled Matt Damon/Bourne Sequel, The Jungle Book, The Lost City of Z, The Huntsman: Winter's War.
The billion dollar Star Wars franchise is committed to making the new trilogy here in the UK and in addition to filming has set up a new Visual FX facility house.
Pinewood have since announced a £200 million expansion to double the size of its existing studios adding new stages, workshops and production offices to accommodate growing demand for UK productions.
Suffragette has been a success at the UK box office. An independent British film, it premiered in the UK as the opening film at the BFI London Film Festival. Suffragette was shot over 47 days with a crew of 181. The production also provided job development roles for 15 trainees as well as using hundreds of extras.
Tom Hardy starring in Legend has surpassed animated favourite Shaun the Sheep to take the title of highest grossing UK independent film for 2015.
Regional impact of the independent film and animation industry
West Midlands
She Who Brings Gifts was written and directed by first time feature filmmaker Colm McCarthy (who has been critically acclaimed for the hit TV show Peaky Blinders). The film was shot over 36 days employing crew from across the Birmingham area.
Yorkshire
Yorkshire has quickly grown to be a major film and television production base in the UK and has seen an incredibly busy year. More than six new titles started filming, including an adaptation of Swallows & Amazons.
Northern Ireland
Major independent film High-Rise was filmed in Belfast and Bangor over seven weeks last year with a crew of 197 people and job development opportunities for three trainees.
Wales
There has been substantial growth in production companies getting feature film, animation and documentary film projects started in Wales including Ethel & Ernest, an animation with Lupus Films in London and Cloth Cat animation studio in Cardiff Bay.
Scotland
A grassroots production of the classic Scottish novel, Sunset Song by Lewis Grassic Gibbon, was finally brought to the big screen by the British filmmaker, Terence Davies. The UK co-production stars British actress Agyness Deyn, Peter Mullan and Kevin Guthrie. Backed by the BFI with Creative Scotland, the Luxembourg Film Fund and BBC Scotland, filming lasted for 37 days working a crew of 240 people.
London
Suffragette was the first feature film to shoot in the Palace of Westminster. It also left a lasting impact a derelict building in Harpenden made safe during filming, has now been converted into a sports venue for the local community.
Business Impact since April 2015
Union VFX
The visual effects company set up in 2008 by Tim Caplan and Adam Gascoyne has grown in size, workload and reputation over the past eight years. It has worked on major feature films including The Theory of Everything, Philomena and The Woman in Black. As a result of its expansion it has moved to bigger premises and over this past year has worked on Suffragette, Far From the Madding Crowd, Everest, Genius and The Lady in the Van.
Above the Line
A set assistance and security business offers nationwide support for productions, providing specialist security officers and set and location assistants. Having only founded in 2011, in four years it has seen its business grow by over 300%.
Most recently it has been working on film productions including Pan and Kingsman: The Secret Service as well as Downton Abbey and Poldark.
Managing director of Above the Line, Daniel O'Toole, said:
Our business has grown phenomenally in a relatively short amount of time, and I can see the potential for us to expand further geographically across the UK.

I am also proud to say that we have been able to create training programmes for our staff and job opportunities for young people as well as experienced workers - at our busiest times we have 200+ people working.

The film and television tax reliefs have been good for the industry and in turn helping to build our business creating employment and value for the economy.
Published 23 December 2015