World news story
Record UK participation at 3rd Hay Festival Arequipa highlights strong cultural ties
The Hay Festival took place from 9-13 November in Arequipa and Cuzco. The "festival of ideas" included the participation of nine distinguished guests from the UK.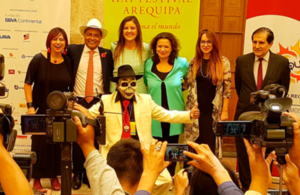 As a symbol of the rising cultural ties between Peru and the UK, a record of nine distinguished guests from the UK attended the third Hay Festival Arequipa. The festival took place from 9 to 13 November 2017 in the city of Arequipa and included a day of activities in Cusco as part of this year's programme. British Ambassador in Peru, Anwar Choudhury, inaugurated the festival.
Together with the British Council and the British Peruvian Cultural Association (more commonly known as Británico), the British Embassy was pleased to present the participation of nine outstanding British writers, historians, curators, and journalists in this year's edition: Jago Cooper, Geoff Dyer, Toby Lichtig, Simon Sebag Montefiore, Laline Paull, Deyan Sudjic, Jenny Valentine, Gabrielle Walker, and Peter Florence, the director and co-founder of the Hay Festival.
The Hay Festival, often described as "the festival of ideas", first began in Hay-on-Wye (Wales) thirty years ago. It celebrates the arts and sciences through open, inclusive and fun events around the world.
At the opening event of the Festival Ambassador Choudhury said:
The Hay Festival started 30 years ago in the town of Hay-on-Wye, in the UK. Today, the Festival plays an important role in Peru, and we Brits and our Peruvian friends are now closer heart-to-heart thanks to the work of the Hay Festival and the British Embassy.
The official programme of the 2017 Hay Festival Arequipa was presented officially at the British Residence in Lima on 4 September. Cristina Fuentes La Roche, International Director of the Hay Festival, presented the new programme to members of Peru's artistic community, journalists, sponsors, and representatives of partner institutions.
The full programme is available here.
Published 16 November 2017