Record numbers of men teaching in primary schools - but more still needed
Latest data from the Teaching Agency (TA) shows more men are becoming primary school teachers.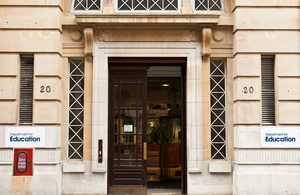 Latest data from the Teaching Agency (TA) shows more men are becoming primary school teachers. The number of male trainee primary teachers has increased by more than 50% in the last 4 years and has grown at 5 times the rate of women.
More top male graduates are being encouraged to follow suit and take advantage of the great opportunities a primary teaching career provides. The same pay scales apply to all teachers, regardless of whether they teach primary or secondary, and career progression opportunities are excellent. Teachers are twice as likely to be in management positions, than graduates in comparable professions after 3.5 years. The average starting salary for teachers now stands at £23,010 and the current average after 4 years is 30 per cent higher. Training bursaries of £5000 are available for those with a 2:1 degree applying to primary teaching, and £9000 for those with a First.
The TA is launching 2 new services to assist men to train to teach primary:
Firstly, a new Primary Experience programme will be available to male graduates who register their interest in primary teacher training with the TA and meet eligibility requirements. It gives men 10 days' work experience in a school. 1,000 places will be available in schools across the country.
The TA is also able to put male graduates in touch with a range of inspirational male primary teachers, to get an insight into teachers' motivations, career choices, challenges and the rewards of day-to-day life in a classroom.
Lin Hinnigan, Interim Chief Executive of the Teaching Agency said:
Primary teaching is increasingly a career for the most able graduates. It offers the opportunity to earn a good salary and progress quickly.

Our aim in joining forces with talented male teachers from primary schools across England is to show the reality of life in a classroom and why there's never been a better time to join the profession.
Darren McCann, who was promoted to deputy head of St Ambrose Barlow primary school after teaching for seven years, said:
I'd always done well at school and initially thought I'd want to be a doctor or a lawyer. This all changed after I visited a school for work experience. A career in teaching shot to the top of my list. It was my ambition that directed me to primary teaching specifically - there are great opportunities for progression - and I've reaped the benefits of that decision.
Notes to Editors
Men considering a career in a primary school can now join a live question and answer session with a teacher training expert from the TA and a member of their panel of male primary teachers. Those interested in finding out more can visit the events section and register on the 'online events' section on 20 July 2012 between 12.30 and 2.00pm.
Census cohort data, by gender.
The trainee numbers census is an annual data collection of trainee registrations in each academic year.
 
Gender
Academic Year
Male
Female
Indeterminate
Actual registrations
2008 to 2009
2467
14,284
0
16,751
15%
85%
0%
100%
2009 to 2010
2824
14,671
0
17,495
16%
84%
0%
100%
2010 to 2011
3262
14,507
0
17,769
18%
82%
0%
100%
2011 to 2012
3743
15,750
8
19,501
19%
81%
0%
100%
The number of teachers with management responsibility is based on those exceeding the main pay scale (£21,588 to £31,552)

Data taken from the Department for Education's Database of Teacher Records based on average teacher salary in local authority maintained schools in England

The Teaching Agency is responsible for initial teacher training (ITT) in England. It provides a comprehensive programme of support to help graduates become a teacher, providing guidance all the way through the application process.

People interested in becoming a teacher should visit Get into teaching or contact the Teaching Information Line on: 0800 389 2500.

More information on the Primary Experience Programme can be found by calling the Teaching Information Line, or by visiting Primary experience programme.

Schools interested in hosting placements for the Primary Experience Programme should visit Primary experience school registration.
DfE enquiries
Central newsdesk - for journalists 020 7783 8300
General enquiries - for members of the public 0370 000 2288
Published 16 July 2012