Record number of co-sponsors for UN Resolution on the Olympic Truce
The Olympic Truce Resolution for the London 2012 Olympic and Paralympic Games today received world-wide support from the General Assembly of the United Nations. Foreign Office Minister Henry Bellingham welcomed support from 193 UN member states.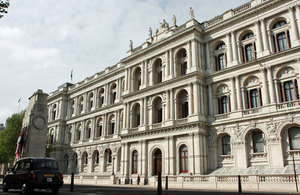 This Resolution has attracted the most co-sponsors in the history of the UN.
The Truce Resolution was formally submitted to the General Assembly by British Olympic middle distance Olympic champion and Chairman of the London Organising Committee for the Olympic and Paralympic Games (LOCOG), Sebastian Coe, on behalf of the United Kingdom.
Foreign Office Minister Henry Bellingham said:
"I'm delighted that the Resolution has been co-sponsored by every single one of the United Nations 193 member states. This astonishing level of agreement shows that the Olympic Truce is more relevant to more countries than ever before. No-one claims that conflict resolution is easy, but in line with the ideals of the Olympic Truce, we are committed to preventing and resolving conflict wherever we can in pursuit of long-term peace and stability around the world.
"For many people in Britain the idea of truce and sport is epitomised by the grainy black and white pictures of British and German soldiers playing football in the no man's land of Flanders during World War One. The United Nations was born from the aftermath of conflict and today the countries of the United Nations have joined together to recognise the hope for peace at the heart of the Olympic idea."
The Olympic Truce requires member states to pursue initiatives for peace and reconciliation in the spirit of the ancient Games for the period seven days before until seven days after the Olympic Games.
The Foreign Office's international activities will be focussed on the following themes:
Local solutions to local problems. Preventing conflict and building peace requires the involvement of the local communities who are most affected. We will look for opportunities to work with local government, communities, faith groups, civil society and the media to build relationships across boundaries.

Legitimate Politics. Legitimate politics are essential for peace. The most peaceful political systems are accountable, give everybody a voice and are trusted to manage difference and accommodate change. We will seek to work with Parliamentarians and bodies such as the Inter-Parliamentary Union and Commonwealth to promote the Truce and encourage public commitments to conflict prevention and peace-building.

Building a 2012 Truce legacy. Through an active public diplomacy programme we have an opportunity to increase international public interest and involvement in conflict prevention and peace-building and to raise the level of ambition for future Olympic Truces.
British Embassies and High Commissions around the world have been raising awareness around peace and preventing conflict:
In Rwanda the British High Commission worked with the British Council on education programmes for children to link them with children in Kenya and the UK.

For the first time after the conflict in Kosovo, our Embassy in Pristina organised a basketball match in Gracanica for kids aged 10-14 from different ethnic backgrounds.

Lord Bates is walking from Olympia in Greece to London for the truce. On the journey he met with Pope Benedict XVI
Published 17 October 2011