Press release
Record £570k fine issued against claims firm
A company which used high pressure tactics to get hundreds of customers to make PPI claims has been fined more than half a million pounds by the Claims Management Regulator (CMR).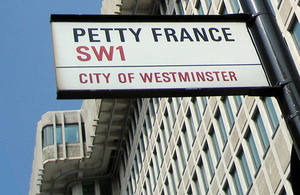 Rock Law Ltd, based in Swansea, has been fined almost £570,000 for coercing clients into signing contracts, without giving them enough time to understand the terms and conditions before taking unauthorised payments.
The record fine is the second to be issued in as many months by the regulator, based at the Ministry of Justice, and comes after the Government changed the law in December 2014 introducing financial penalties for firms found breaching the regulator's rules of conduct. Firms can now expect fines of up to 20% of their annual turnover, as well as having their trading licence suspended or removed.
Head of Claims Management Regulation Kevin Rousell said:
Our investigation showed that Rock Law Ltd were taking unauthorised payments which meant vulnerable people were at risk of being exploited. The size of this record fine demonstrates how seriously we take protecting the public from this exploitation.
I hope firms that persist with poor practice take notice – If you break the rules you will have to pay.
An investigation by the regulator found that Rock Law Ltd had consistently infringed rules. Under those rules, companies are not allowed to take any payments from customers unless they have signed a written contract to work with them – so that people cannot be pressured into making agreements.
The fine is the latest in a series of moves by the government to clean up the industry. Since 2010 the regulator has removed the licences from over a thousand Claims Management Companies (CMCs), including 300 last year. Firms which are subject to investigation and enforcement action are now named online.
Justice Minister Lord Faulks said:
Claims management companies should be in no doubt that they must abide by the rules. There are no excuses.
I want to make sure we're doing all we can to protect consumers, get them a fairer deal and prevent their time being wasted by the rogue practices of some firms.
Note for Editors
Claims management company Rock Law Limited was fined £567,423 under new Claims Management Regulation powers. The fine is the second and largest fine to be issued by the Claims Management Regulator.
View details of the decision against Rock Law Ltd.
Information about the Claims Management Regulation Unit, including details of live investigations and enforcement action against companies
The government has taken a number of steps in recent year to tackle rogue claims management companies including:

Banning 'referral fees' paid between lawyers, insurers, claims firms and others for profitable claims – which have driven the growth of compensation culture
Banning claims management companies from offering cash incentives or gifts to people who bring them claims. Recommend a friend deals also banned, along with contracts agreed only over the phone
Changing the law so that regulated claims companies which breach Claims Management Regulation rules around cold-calling and client service will be liable for fines of hundreds of thousands of pounds (as well as the existing sanctions of being suspended or closed down)

For further information please call the MOJ press office on 020 3334 3536. Follow us @MoJGovUK.
Published 15 October 2015