Reconstruction team head sees progress in Nad 'Ali
The head of the Helmand Provincial Reconstruction Team (PRT) says he is impressed by the progress being made by Royal Marines from 42 Commando in Nad 'Ali (North), after visiting villages in the area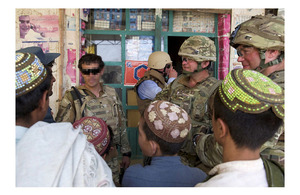 Michael O'Neill visited the villages of Naqilabad and Showal last Friday, 22 July 2011, to see the development taking place now that security has improved.
Mr O'Neill was given a tour of the area by Lieutenant Colonel Ewen Murchison, the Commanding Officer of 42 Commando Royal Marines (42 Cdo RM), which has been providing security alongside the Afghan National Army (ANA) and police since April 2011.
In Naqilabad, Mr O'Neill spoke to local people wanting to refurbish a school, currently in a bad state of repair after years of fighting. They are keen for it to open so their children can be educated.
Recently, the PRT funded and the Military Stabilisation Support Group supervised the erection of a new perimeter wall. Plans are now being discussed for more work to restore the school.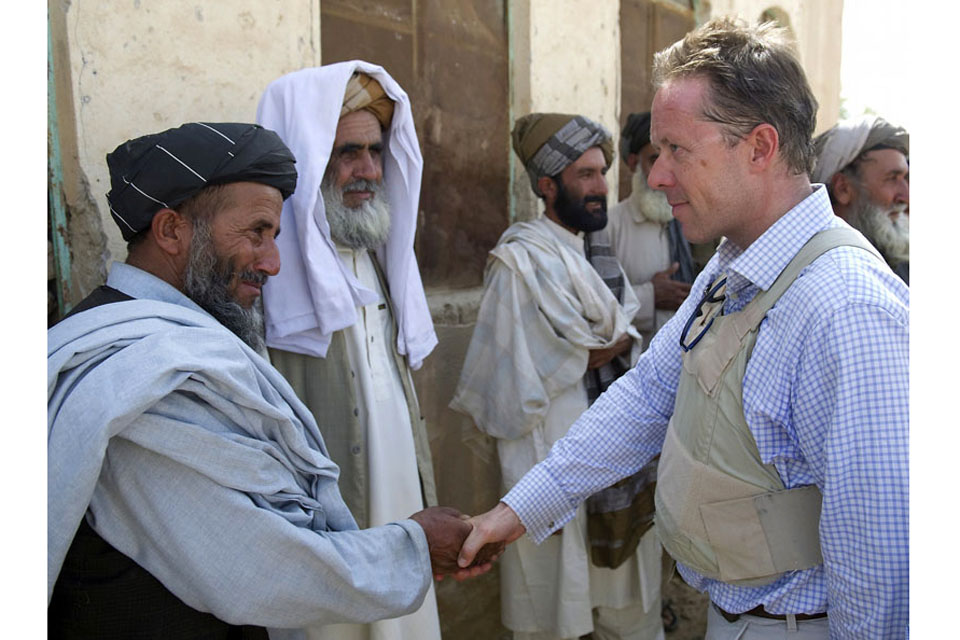 Mr O'Neill said:
There is clearly more to do in these parts of Nad 'Ali, to help the Afghan authorities connect with and meet the needs of local people.
But the improvements in security, even since last autumn, are remarkable, and are a tribute to the professionalism and service of British troops and their Afghan partners.
These changes mean more can be done to help local people and build their confidence in their own government.
Several months ago, the Showal bazaar was desolate and deserted. People were too scared to go there, and the threat from improvised explosive devices (IEDs) was high. Now, it is thriving, with many stalls offering all kinds of goods, and traders coming from outside the area to buy and sell.
Marine Wesley Grant, aged 29, from Johannesburg, South Africa, said:
The bazaar has become a lot busier over the last month. It seems like the locals feel much safer in the area with the Afghan Police and us present.
During Mr O'Neill's visit, security was provided by the Afghan Uniformed Police, with Royal Marines from M Company, 42 Cdo RM, in support.
Officer Commanding M Company, 42 Cdo RM, Major Matt Parker, said that the Afghan National Security Forces are increasingly taking the lead:
The AUP are proud to take the lead and want to show that they are capable of stepping up and doing the job that ISAF has been for some time. Even in the three-and-a-half months I've been here, their willingness and competence have improved markedly, and that is extremely encouraging.
Responsibility for security in the neighbouring district of Lashkar Gah was formally handed from UK troops to Afghan forces last week following many months during which the Afghan police have informally been in control in the district centre.
Lt Col Murchison says he hopes what is happening in parts of Nad 'Ali (North) means that, in due course, it too will be ready to begin the transition process:
Some areas of Nad 'Ali (North) are now reaching quite advanced stages of development. The areas of Showal and Naqilabad Kalay in particular, are excellent examples of this progress and indicate that our current counter insurgency policy is both the right one and producing tangible results.
Proven success in these areas fills us with optimism for the remainder of Nad 'Ali (North); the opening of new schools, health clinics and the presence of flourishing bazaars represent significant steps forward and are clear evidence that the security situation is greatly improved.
The local people are extremely pleased and are beginning to talk openly about the confidence they now have that the Afghan government can provide for their every day needs.
PRTs are at the heart of NATO's ISAF (International Security Assistance Force) mission. They embody a joint military and civilian approach to stabilising Afghanistan and the Helmand PRT consists of British civilian and military personnel.
Published 26 July 2011