World news story
Recent MBE recipients celebrated in New York
On 6 June, British Consul General Danny Lopez hosted a reception for Rebecca Cousins & Richard Sexton at the British residence in New York.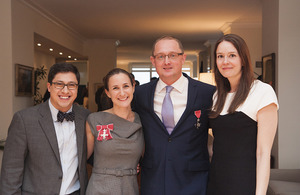 Both Rebecca Cousins and Richard Sexton have recently been honoured by Her Majesty The Queen by being made Members of the Most Excellent Order of the British Empire (MBE).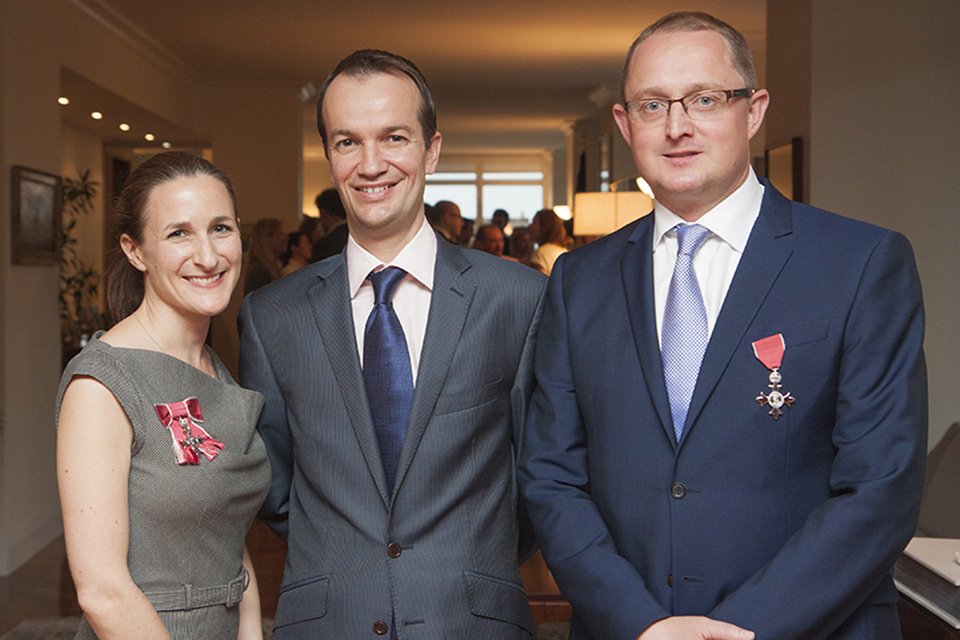 "We are gathered this evening to honour two very special members of the British community in the US," said Consul General Danny Lopez. "Rebecca and Richard are fantastic ambassadors for the UK and fully deserve the great honour bestowed upon them by Her Majesty The Queen."
Rebecca Cousins received her MBE in the 2012 New Year Honours for her work leading the consular response for the UK's Foreign & Commonwealth Office in Japan following the earthquake of 11 March 2011 and the subsequent tsunamis and nuclear meltdown at Fukushima. Some 17,000 British nationals were in Japan at the time, many of whom were directly affected by the disaster. Rebecca masterminded evacuations, assisted departures and helped to locate the thousand or so missing persons in the days after 11 March. Rebecca thanked Vice Consul Carl Frater and the consular team in Japan for their extraordinary efforts at the time.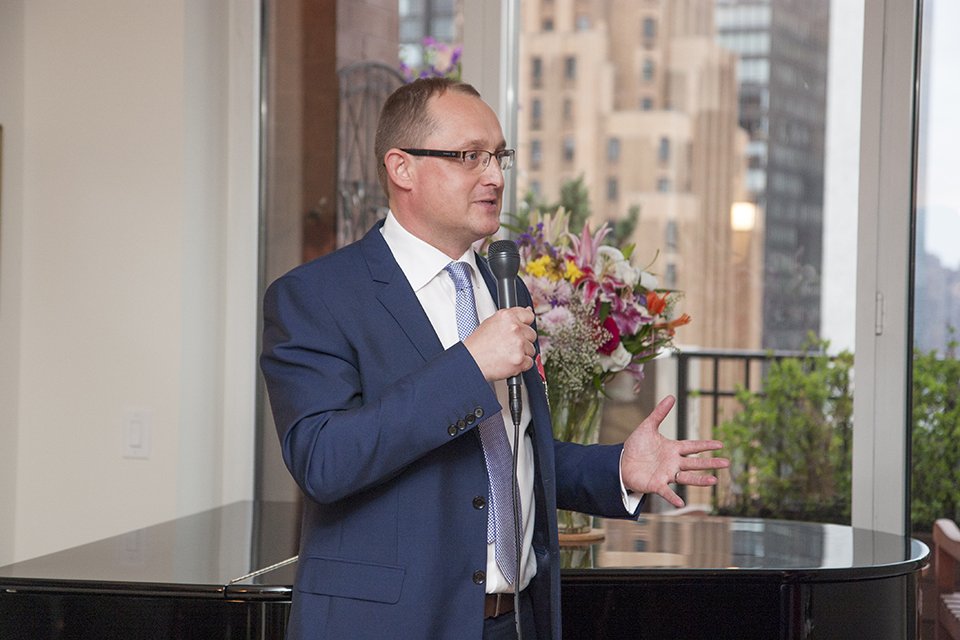 Richard Sexton was awarded his MBE in the 2013 New Year Honours for services to charitable causes in the UK and the US. Since 2009 he has run the Captain's Knock Sporting Legends events, which have raised hundreds of thousands of dollars for the UK-based children's charity Sparks, the US sports charity Play Rugby USA, and the St. George's Society of New York, which helps disadvantaged people of British or Commonwealth descent. In 2011 he established a new professionals arm of the St. George's Society called GEORGE, which has also helped to boost their fundraising capacities significantly. Rich thanked his colleagues in the various organisations he has assisted and is looking forward to many more years working with them.
Published 7 June 2013