Recent commander in southern Afghanistan reports on progress
The former top-ranking British General in southern Afghanistan spoke yesterday about the progress made in Afghanistan over the course of the past 12 months and some of the problems still to overcome. Report by Sharon Kean.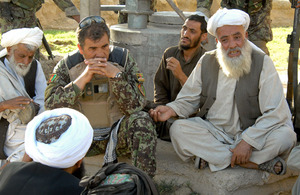 Major General Nick Carter served for 12 months in Afghanistan, stepping down earlier this month. During that time he was responsible for coalition forces in and around Kandahar and Helmand provinces.
Speaking to the media yesterday, Major General Carter said that although there were 'green shoots' of progress in southern Afghanistan and violence levels had decreased, it was too early to say for certain how much improvement had been made over the past year as the winter marked the end of the insurgents' fighting season and it was typically quieter at this time of year:
Until June or July next year we won't be entirely confident things are better, because you have to compare and contrast with June or July of this year to show that those things are really happening," he said.
Based in Kandahar at the ISAF Regional Command Headquarters, Major General Carter initially took charge of Regional Command (South), commanding some 55,000 troops, a task he described as a 'challenging military proposition'.
In June, the region was split and the command of Helmand and Nimruz provinces shifted to the Americans in the newly-created Regional Command (South West), leaving Major General Carter with control of Kandahar, Daykundi, Uruzgan and Zabul provinces.
In his area of operations over the past 12 months Major General Carter said that the Afghan National Security Forces had been strengthened, with four extra Afghan National Army brigades and an increase in police numbers of 30 per cent, compared to the same time last year:
It's also the case that they [the Afghan people] are beginning to become more confident in their own security forces," he added.
The fact that 80 per cent of the IEDs found in and around Kandahar City over the past few months have been handed in to the Afghan National Police is indicative of first of all greater trust in the Afghan National Police in Kandahar. It is also indicative perhaps of the views of the population generally in supporting the government.
He said that a redistribution of coalition troops to make Afghan security forces 'better partnered and enabled' was restricting insurgent activity, adding:
There is a lot less space for the insurgents to have freedom of movement in. All of the green zones around Kandahar now have a coalition and Afghan security force presence in them.
The same applies to central Helmand where there's not much green space now that's not under the aegis of government forces. Generally I think that the application of the resources and getting the inputs right is having an effect.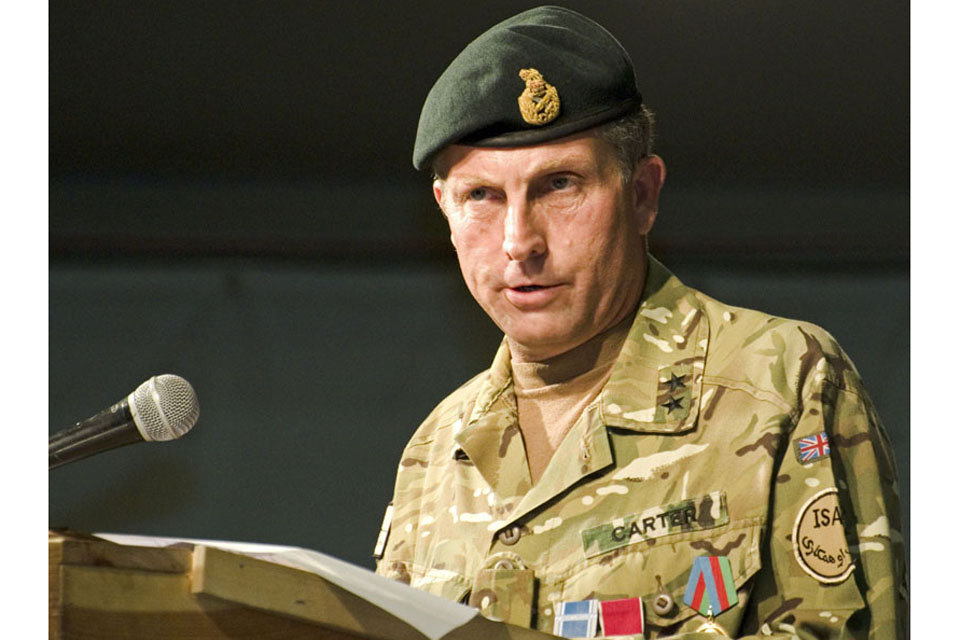 However, there were still issues to overcome with the developing Afghan National Army (ANA) and Police:
The Army will always be a challenge in the south because at the moment only five per cent of it is recruited from local southern Pashtuns," said Major General Carter. "Whilst we are now beginning to recruit southern Pashtuns in Kandahar and Helmand into the ANA, we only have the first hundred training down in Kandahar and clearly the numbers need to increase.
He said the police represented a different challenge for coalition commanders, adding:
Loyalties in Afghanistan tend to be towards individuals rather than to institutions, and the Afghan National Police will be the solution to that situation in the south. But that's also part of the problem we have to overcome with the loyalties of its members.
Major General Carter added that there would also be difficulties associated with developing governance in Afghanistan:
Trying to get the right quality of district governance is something that I and the command have invested a lot of energy in," he said. "Trying to find people that are genuinely competent rather than people who are respected because of their pedigree will be a challenge for the next few months and years.
Overall there was better knowledge among commanders of the insurgency that coalition forces are tackling:
We have a really good understanding of the nature of the problem now in terms of some of the causes of the insurgency and we focus much more of our intelligence-gathering effort now on what is driving people to become insurgents," he said.
He added that insurgent leadership had been weakened by 'impressive' Special Forces operations targeting mid- and low-level leaders.
However, a 'resilient' insurgency remained 'alive and well' in and around Kandahar and Helmand provinces.
Major General Carter concluded by saying he had been 'hugely privileged' to serve as a coalition commander and paid tribute to those who were killed in action over the past year:
We should remember the human cost in all of this," he said. "In the year under my command I lost 302 soldiers and plus of 2,000 have life-changing injuries as a consequence of what we've done during the course of this year.
I think it's absolutely right and proper that we should remember the human cost and the blood and treasure that's been invested.
Published 11 November 2010