Press release
Recall of dairy products linked to Dunn's Dairy, Drewsteignton Devon
Public Health England and West Devon Borough Council are urging consumers in Devon who received milk and cream products from Dunn's Dairy, Beacon View Farm (Drewsteignton, Devon) to not consume and dispose of them.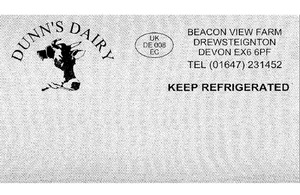 The dairy is not to be confused with Dunn's Dairy of Underdown Farm, Exbourne.
This recommendation comes after a joint Public Health England and West Devon Borough Council investigation following an inspection of the dairy premises.
Milk samples taken from the dairy by West Devon's Environmental Heath Officers raised concerns that either the pasteurised milk had been contaminated or the pasteurisation process had not been effective.
As a precaution, West Devon Borough Council's Environmental Health team has asked the dairy to stop supplying milk and cream products and recall any of these products supplied. The dairy has also been issued with a notice to stop production.
The dairy supplies milk to doorsteps and businesses covering the Devon area, including; West Devon, Teignbridge, Exeter, Mid Devon, Torbay.
Dr Mark Kealy, Consultant with the Devon, Cornwall and Somerset PHE centre said:
Taking into account the findings from the Environmental Health Officers who visited the dairy, we want to take a precautionary approach and ask anyone who has received milk and cream products from the dairy to dispose of it and not consume. We will continue to work with West Devon Borough Council who will be carrying out further investigations.
Peter Wearden, Divisional Environmental Health Officer from West Devon Borough Council, said:
Environmental Health Officers visited the dairy and took milk samples, the results of which have raised concerns about the potential of either insufficient heat processing or cross contamination of the milk at the plant.We have taken steps that require the dairy to stop processing milk and recall milk, and cream products that might have been sold to the public. We must be satisfied that the products can be produced safely before we allow future sales and we are continuing our investigations. We have coordinated a county-wide investigation working with district council officers across Devon and we have also been in discussions with the Food Standards Agency.
PLEASE NOTE: The milk mark on the bottles from Dunn's Dairy, Beacon View Farm, Drewsteignton is 'UK DE 008 EC'.
Black and white image of the label can be seen on this page; please note label colours may vary depending on the type of milk and product.
Media enquiries to relating to Public Health England, please contact Casey Bodman, tel: 0117 968 9161.
For media enquires relating to West Borough Council contact Alison Stoneham, West Devon Borough Council, tel: 01822 813 648.
Issued by:
PHE South Public Health England Press office
2 Rivergate
Temple Quay
Bristol
BS1 6EH
Tel: 0117 9689161

Published 14 June 2013