Press release
Reappointment of Chief Executive for the Natural Environment Research Council
Professor Duncan Wingham has been reappointed as Chief Executive of the Natural Environment Research Council (NERC).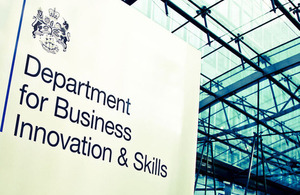 Universities and Science Minister Jo Johnson today (14 December 2015) announced the reappointment of Professor Duncan Wingham as Chief Executive of the Natural Environment Research Council (NERC).
Universities and Science Minister Jo Johnson said:
I am very pleased to reappoint Professor Wingham for a further term as Chief Executive of NERC. His breadth of experience and expertise in environmental science will continue to be important as he leads NERC to support world-class science and increase knowledge and understanding of the natural world.
Sir Anthony Cleaver, Chair of NERC said:
Duncan has been an outstanding Chief Executive of NERC and I am delighted that his term of office has been extended. His focus on demonstrating the impact of research and his vision and clarity of thinking have helped maintain Britain's leading position in environmental research.
Professor Wingham said:
There has never been a more exciting time in UK environmental research, with initiatives such as those in the Southern Ocean and Artic pushing the frontier of our knowledge further promising long-term gains in our well-being and security. It will be a privilege to serve NERC and our community again as we work with the public, investigators, funders, industry and government to discover new approaches to the grand challenges faced by our society.
The appointment is from 1 January 2016 until 31 December 2017.
NERC is the UK's main agency for funding research in atmospheric, Earth, biological, terrestrial and aquatic sciences. In the 2015 Spending Review, the government protected science funding of £4.7 billion in real terms over the Parliament. Growth in the ring-fenced budget will be used to invest in a new £1.5 billion Global Challenges Research Fund.
Notes for Editors
NERC is the UK's main agency for funding and managing research, training and knowledge exchange in the environmental sciences. It coordinates some of the world's most exciting research projects, tackling major issues such as climate change, environmental influences on human health, the genetic make-up of life on earth, and much more. NERC is a non-departmental public body, which receives funding from the Department for Business, Innovation and Skills (BIS). Working internationally, NERC has bases in the most hostile parts of the planet. They run a fleet of research ships and aircraft and invest in satellite technology to monitor gradual environmental change on a global scale. NERC provide knowledge, forewarning and solutions to the key global environmental challenges facing society.

Professor Wingham received a BSc from the University of Leeds in 1979, and a PhD from the University of Bath in 1984, both in physics. He joined University College London in 1986, where he held lecturing posts at the Mullard Space Science Laboratory and the Department of Electronic and Electrical Engineering. He was appointed as a Chair in the Department of Space and Climate Physics in 1996, and was Head of the Department of Earth Sciences at UCL from 2005 to 2010. He was founder and Director of the NERC Centre for Polar Observation and Modelling (CPOM) from 2000 to 2005, which among other things discovered the widespread mass loss from the West Antarctic Ice Sheet and its origin in accelerated ocean melting. He was first appointed as NERC Chief Executive in 2011.
Published 14 December 2015