Press release
Reappointment of Chief Commissioner of the Equality Commission NI
Secretary of State, James Brokenshire MP, announces the reappointment of the Chief Commissioner, Equality Commission for Northern Ireland.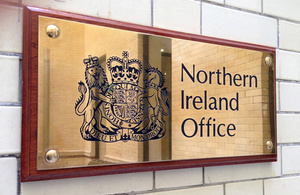 Secretary of State, James Brokenshire MP, today announced the reappointment of Dr Michael Wardlow as the Chief Commissioner of the Equality Commission for Northern Ireland for a further period of three years.
Notes for Editors
Equality Commission for Northern Ireland
The Equality Commission was established in 1999, as part of the implementation of the Good Friday Agreement. It took over the functions of the Fair Employment Commission, Equal Opportunities Commission, Council for Racial Equality and Northern Ireland Disability Council.
The Equality Commission is responsible for policing the Statutory Duty on all public authorities in Northern Ireland to have due regard to the need to promote equality of opportunity across a range of areas including religion, political opinion, gender, race, age, marital status, sexual orientation, disability and those with and without dependants.
Terms of appointment
Appointments to the Equality Commission for Northern Ireland are made in line with guidance issued by the Commissioner for Public Appointments.
Dr Wardlow was appointed in March 2012 for an initial five year term. His second term will last for three years until 29 February 2020.
The position is part time and pensionable.
The Chief Commissioner is remunerated by The Executive Office. Details of the Chief Commissioner's remuneration and pension arrangements are published in the Equality Commission's Annual Report and Accounts.
Biography
Dr Wardlow's biography can be found on the Equality Commission's website here
Political Activity
All appointments are made on merit and with regards to the statutory requirements. Political activity plays no part in the selection process. However, in accordance with the original Nolan recommendations, there is a requirement for appointees' political activity in defined categories to be made public.
No political activity has been declared.
Statutory Requirements
This appointment is made by the Secretary of State with regard to provisions set out in section 73 and paragraph 2(2)(a) of Schedule 8 of the Northern Ireland Act 1998.
Published 19 January 2017