Reaffirming commitment to the Nuclear Non Proliferation Treaty
Foreign Office Minister Alistair Burt has welcomed the conclusion of the Nuclear Non-Proliferation Treaty Preparatory Committee.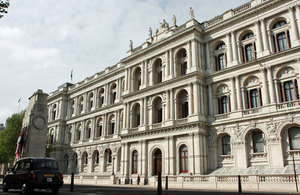 Speaking today about the conclusion of the 2012 Non-Proliferation Treaty Preparatory Committee (NPT PrepCom) in Vienna, Minister for Counter-Proliferation Alistair Burt said:
"The NPT is the best mechanism we have for preventing the spread of nuclear weapons, and it is therefore essential for global security that the NPT continues to be strong, fit for purpose and widely supported. This two week meeting in Vienna, attended by 111 States Parties, was another important milestone in international cooperation following the successful NPT Review Conference in 2010.
"The countries present reaffirmed their commitment to the Treaty and highlighted their priorities for this NPT review cycle, covering all three of the Treaty's pillars: disarmament, non-proliferation and the peaceful use of nuclear energy. They also discussed progress on the Middle East Weapons of Mass Destruction Free Zone conference, with an update from conference facilitator Jaako Laajava.
"The UK remains committed to implementing the action plan agreed in 2010 across the NPT's three pillars. I firmly believe we have started strongly, making demonstrable progress on disarmament on both a unilateral and P5 basis, engaging widely with States Parties on the benefits of a strengthened nuclear safeguards system and continuing to promote the peaceful uses of nuclear energy. I hope all NPT States Parties will work together to implement the NPT action plan, ahead of the next Review Conference in 2015."
Head of the UK delegation to the Preparatory Committee Jo Adamson said:
"I am delighted that the UK played a key role at this useful and businesslike first Preparatory Committee of the NPT review cycle. In particular that we were able to showcase and share our groundbreaking work with Norway on verification of warhead dismantlement. And we welcomed the work of Facilitator for the 2012 conference on the WMD Free Zone in the Middle East. As a co-convenor the UK will continue to support his work and that of the states of the region in preparing for the conference.
"The Preparatory Committee showed us what needs to be done in the next three years leading to the 2015 Review Conference. We look forward to working with our NPT partners to fulfil the action plan".
You can listen to Alistair Burt discussing current nuclear issues, the Non-Proliferation Treaty and the Preparatory Committee with Dr Patricia Lewis of Chatham House in his blog.
Published 11 May 2012