News story
Re-imagining the high street: 3 companies win £3 million funding
3 British companies have each won £1 million to develop innovative new technologies to address the challenges facing the UK high street.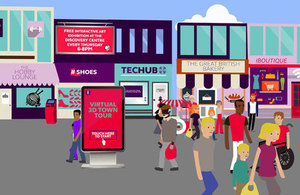 Innovate UK has awarded funding to 3 British technology companies in a competition called 'Re-imagining the High Street'.
The aim of the competition was to find solutions to the challenges facing the UK high street including:
the rise of online shopping which increased by 14.7% in July 2015 compared to the same month in 2014
rising town centre vacancy rates
The competition invited businesses to show how they can use new technologies to increase the number of high street shoppers. A further aim was to improve their shopping experience.
Each company has now 'adopted' a real high street to help them measure the impact of their technology. The companies chosen are:
Rewarding Visits - a free app and card that consumers can use to access retail and leisure offers. This helps high street retailers regain customers they've lost to online shopping. The company will use this funding to develop Rewarding Visit Touchpoint kiosks.
Proxama is an international mobile commerce company specialising in proximity marketing via mobile. It also helps card issuers move their customers to contactless mobile payments. The company plans to use this funding to scale up its beacon technology for retailers and brands.
Snap Fashion brings visual search to fitting rooms. Consumers can access a whole wardrobe of choices through a personal shopper app. Smart tags acknowledge the item the customer is trying on in the fitting room without the use of cameras. Snap Fashion's visual search technology will then suggest complementary or alternative fashion items.
About SBRI innovation competitions
Innovate UK ran this competition through SBRI, the Small Business Research Initiative. SBRI brings together government challenges and ideas from business to create innovative solutions.
Published 5 October 2015