Press release
Re-appointment to the Board of Trustees, the Royal Botanic Gardens, Kew
Mr Timothy Hornsby has been re-appointed to the Board of Trustees of the Royal Botanic Gardens, Kew.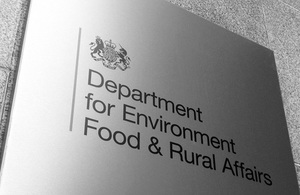 The appointment will run until August 2013.
The Royal Botanic Gardens, Kew is an Executive Non-Departmental Public Body created under the National Heritage Act 1983, sponsored by Defra and which operates under a Board of Trustees.
All appointments to Kew are made on merit and political activity plays no part in the selection process. However, in accordance with the original Nolan recommendations, there is a requirement for the political activities of appointees to be made public. Mr Hornsby has not declared any political activity.
The appointment has been made in accordance with the code laid down by the Commissioner for Public Appointments. The Commissioner is independent of the Government and was appointed to follow up certain recommendations of the Nolan Committee. The intention of the Code is to provide an efficient and transparent appointments system in which both candidates and the public can have confidence.
Notes
The Board of Trustees for the Royal Botanic Gardens, Kew comprises a Chairman and 11 members. Ten members and the Chair are appointed by the Secretary of State. Her Majesty the Queen appoints her own Trustee on the recommendation of the Secretary of State.
Members are unpaid but can claim certain allowances and are eligible for travel and other expenses incurred in the course of their appointments.
Biographical details
Timothy Hornsby is currently the Chair of the Horniman Museum, and Chair of the Harkness Fellows Association. He is an independent member of the Consumer Council for Water and a Trustee of the International Institute for Environment and Development and of the Charles Darwin Trust. He is also a Governor of the Legacy Trust.
In his previous career he was a Commissioner and Chair of the National Lottery Commission. He occupied the Chief Executive posts at the National Lottery Charities Board (now the Big Lottery Fund), the Royal Borough of Kingston, and the Nature Conservancy Council, after a career in academic life and subsequently in HM Treasury and the Department of Environment.
Published 14 September 2010