Press release
Re-appointment of Peter Donaldson as Commissioner to the Low Pay Commission
Peter Donaldson has been re-appointed as Commissioner to the Low Pay Commission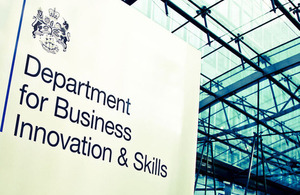 Jo Swinson, Minister for Employment Relations and Consumer Affairs, has re-appointed Peter Donaldson as Commissioner to the Low Pay Commission.
This second term begins on 1 May 2013 until 31 March 2016, and is made in accordance with the Office of the Commissioner for Public Appointments (OCPA) guidelines.
Notes to editors
1.The Low Pay Commission (LPC) is a Non Departmental Public Body responsible for providing advice on the National Minimum Wage. The Commission reports to the Prime Minister, Deputy Prime Minister and the Secretary of State, and consists of a Chair and eight other members.
2.The LPC monitors, evaluates and reviews the impact of the National Minimum Wage (NMW), with particular reference to the effect on pay, employment and competitiveness in low paying sectors and small firms; the effect on different groups of workers; the effect on pay structures; and the interaction between the minimum wage and the tax and benefit systems. The Commission reviews the level of the NMW adult rate, the development rates, and the Apprentice Rate, and makes recommendations, if appropriate, for change.
3.All appointments are made on merit and political activity plays no part in the selection process. However, in accordance with the original Nolan recommendations, there is a requirement for appointees' political activity (if any declared) to be made public. Peter Donaldson has declared no such political activity.
Biographical Details
4.Peter Donaldson has studied at Queen's University, Belfast and Stranmillis College, and has a BSc Honours in Economics and a PGCE. He has had a distinguished career in both private and public sectors and has extensive experience within the small business community. He is currently a Managing Director of d5 Consulting Ltd, a management consultancy involved in project management, Intellectual Property Protection and Chemical Regulatory Affairs. He has served as a Non-executive Director of Business Innovation Link and has also been a Member of the Small Business Council. He is a lay Magistrate and a member of the NI National Appeal Panel.
5.The government's economic policy objective is to achieve 'strong, sustainable and balanced growth that is more evenly shared across the country and between industries'. It set four ambitions in the 'Plan for Growth' (PDF 1.7MB), published at Budget 2011:
to create the most competitive tax system in the G20
to make the UK the best place in Europe to start, finance and grow a business
to encourage investment and exports as a route to a more balanced economy
to create a more educated workforce that is the most flexible in Europe.
Work is underway across government to achieve these ambitions, including progress on more than 250 measures as part of the Growth Review. Developing an Industrial Strategy gives new impetus to this work by providing businesses, investors and the public with more clarity about the long-term direction in which the government wants the economy to travel.
Published 1 May 2013