News story
Re-appointment of Jennifer Eady and Nicola Templeman as Council Members to the Advisory, Conciliation and Arbitration Service (Acas)
Both appointments are for a further three year term commencing from 1 April 2011 to 31 March 2014 and are made in accordance with the Office…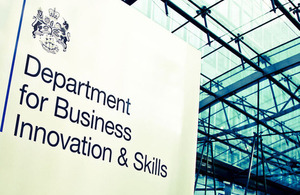 Both appointments are for a further three year term commencing from 1 April 2011 to 31 March 2014 and are made in accordance with the Office of the Commissioner for Public Appointments (OCPA) guidelines.
Notes to editors:
---
Acas aims to improve organisations and working life through better employment relations. They provide up-to-date information, independent advice, high-quality training and work with employers and employees to solve workplace problems and improve performance. More information can be found at www.acas.org.uk. It is an independent statutory body governed by a Council of twelve consisting of the Acas Chair, employer, trade union and independent members.

All appointments are made on merit and political activity plays no part in the selection process. However, in accordance with the original Nolan recommendations, there is a requirement for appointees' political activity (if any declared) to be made public.

Biographical Details:
Nicola Templeman has a Masters in Business Administration (MBA), Diploma in Management Services (DMS) and is a fellow member of the Association of Accounting Technicians (FMAAT).
Nicola has spent nearly 30 years in the financial services industry, the last 16 as a Senior Executive at Nationwide Building Society, where she led a wide range of departments including Retail Strategy, Group Audit, Third Party Sales and the Fraud Department. She was an inaugural member of the Equal Opportunities Committee at Nationwide with an interest in all areas of diversity.
Nicola is now an independent financial adviser, and coaching women in transition in their work/home life, in addition to her position as Acas Council member. She also sits on the Board of the Wiltshire Rural Housing Association.
Jenny Eady Q.C. is one of the Leading Employment Law Barristers in the country. She undertakes advocacy and advisory work for employers, employees, trade unions, employers' associations, central and local government, statutory commissions and NGOs.
Jenny became a Queen's Counsel in 2006, having practiced at the bar since 1990, and has appeared in many of the leading employment cases in recent years. Prior to this Jenny was a member of the Attorney-General's A-Panel of advocates and also standing junior counsel to the NUJ and NUM. She continues to be instructed in a number of leading cases for the Government and to advise and represent trade unions and employers in strategic and test cases in the fields of employment and discrimination law.
Jenny was appointed as an Employment Judge in 2001 and a County Court Recorder in 2003. She is a Vice-President of the Industrial Law Society and a Trustee of the Free Representation Unit.
---
BIS's online newsroom contains the latest press notices, speeches, as well as video and images for download. It also features an up to date list of BIS press office contacts. See [http://www.bis.gov.uk/newsroom](http://www.bis.gov.uk/newsroom) for more information.
Notes to Editors
Contact Information
Name BIS Press Office Job Title
Division COI Phone
Fax
Mobile
Email NDS.BIS@coi.gsi.gov.uk
Name Henry Tanner Job Title
Division Department for Business, Innovation and Skills Phone 020 7215 5947 Fax
Mobile
Published 1 April 2011