News story
Re-appointment of Colin Ashford to the Insolvency Rules Committee
The Secretary of State for Justice has re-appointed Colin Ashford for 12 months (1 June 2015 to 31 May 2016) as a member of the Insolvency Rules Committee.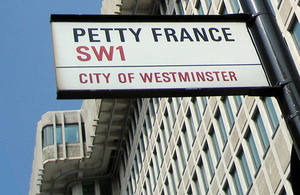 The Insolvency Rules Committee (IRC) considers amendments to the rules arising out of a review of secondary legislation, giving their recommendations to the Lord Chancellor.
Appointments and re-appointments to the IRC are regulated by the Commissioner for Public Appointments. This re-appointment has been made in line with the Commissioner's Code of Practice for Ministerial Appointments to Public Bodies.
IRC members are from the legal and accountancy professions. They provide their services on a voluntary and unremunerated basis.
The re-appointment has been made by the Lord Chancellor in consultation with the Chancellor of the High Court on behalf of the Lord Chief Justice.
Published 27 March 2015