Press release
Rate of employment grew faster in Wales than in any other part of the UK
Stephen Crabb: "Welsh business has powered the economic recovery in Wales since 2010."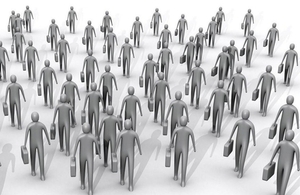 The rate of employment grew faster in Wales than in any other part of the UK over the three months November to January, according to official figures published today.
Employment increased by 24,000 (1.2%) between November and January – with today's figure showing 1.389 million people in work in Wales.
The employment rate for women in Wales (66.1%) is now higher than in London (65.6%) – the country now has 650,000 women in work.
Employment within the private sector has increased by 14,000 over this period – while falling within the private sector by 2,000.
Unemployment in Wales also fell by 13,000 (0.9%) over these three months and by 8,000 over the year.
The unemployment rate now stands at 6.2 per cent, a fall of 0.9 percentage points over the past three months and the third largest fall out of all the UK nations and regions.
The number of Jobseeker's Allowance claimants in Wales fell by 1,300 in February and 17,300 over the year - the 24th consecutive monthly fall.
Since 2010, the majority of new jobs in Wales are full time. There are now 35,000 more people in full time employment since the election. Only 18 per cent of people in Wales in part time work say they want full time employment.
Secretary of State for Wales Stephen Crabb said:
Welsh business has powered the economic recovery in Wales since 2010.

By investing in infrastructure, cutting red tape and lowering job taxes, we have put in place the right conditions for growth. But it is Welsh business that is responsible for these positive figures today.

Throughout difficult times, they have shown the determination and ambition to expand their companies, grow the economy and create new jobs.

As a result, more people in Wales are now benefiting from the security of a meaningful job, a regular wage and a better standard of living.

But the job is not yet done. And so in 2015 we must stick to our long-term economic plan, backing business, until people in all parts of Wales can truly feel the benefits of the economic recovery.
Baroness Randerson commenting on the latest figures for women said:
There are now 650,000 women in work in Wales, an increase of 24,000 since the election – with a higher employment rate for women of in Wales (66.1%) than in London (65.6%). This represents the hard work and determination of women across the country.

This government is creating a stronger economy and a fairer society - supporting more women to get into work. I want to see more businesses get the full benefit of women's skills to create a more diverse workforce that better reflects Wales.

We are reducing the cost of childcare, addressing the gender pay gap, increasing flexible working and introducing shared parental leave.

As a result we are seeing more women than ever entering the workforce and thriving – with a woman on the board of every FTSE 100 company.
Published 18 March 2015