Press release
Rare Wedgwood Vase at risk of export
Culture Minister steps in to prevent a rare Josiah Wedgwood vase from export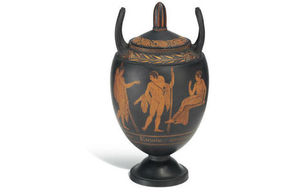 One of only four vases known to have been made by Josiah Wedgwood on the opening day of his world-famous factory is at risk of being exported from the UK unless a buyer can be found to match the asking price of £482,500 (plus VAT of £16,500).
Culture Minister Matt Hancock has placed a temporary export bar on the Black "Basaltes" First Day's Vase to provide an opportunity to keep it in the country.
Wedgwood - known as one of the most famous and pioneering potters of the Industrial Revolution - treasured the First Day's Vases and said that they should not be sold. He made them himself when his new factory Etruria opened on 13th June 1769.
Two of the other vases are owned by the V&A and displayed in the Wedgwood Museum in Staffordshire. The third vase is on a long-term loan to the British Museum.
The vase is based on ancient Greek pottery and is believed to have been hand painted by renowned enamel painter William Hopkins Craft. The Etruria factory was the result of a partnership between Wedgwood and Thomas Bentley and remained in operation for 180 years. It greatly influenced the Stoke-on-Trent area and the industrialisation of pottery manufacturing.
Minister of State for Digital and Culture Matt Hancock said:
This beautiful vase has an extraordinary history. It was created by the hand of one of the most influential potters of all time, on the day his world famous factory opened. It is a unique piece and a reminder of the pioneering work of Wedgwood during the Industrial Revolution. I hope a buyer comes forward so we can keep all four First Day's Vases in the UK for the public to enjoy.
The decision to defer the export licence follows a recommendation by the Reviewing Committee on the Export of Works of Art and Objects of Cultural Interest (RCEWA), administered by The Arts Council.
RCEWA member Philippa Glanville said:
"This beautiful First Day vase has a monumental quality which belies its relatively small size. Burnished to a delicate sheen, it glows as an embodiment of the pride of Wedgwood and Bentley in their collective achievement, a key day and event in the British technical and commercial revolution of the 18th century."
The RCEWA made its recommendation on the grounds of the vase's close connection with our history and national life and its outstanding aesthetic importance.
The decision on the export licence application for the vase will be deferred until 14th March 2017. This may be extended until 14th July 2017 if a serious intention to raise funds to purchase it is made at the recommended price of £482,500 (plus VAT of £16,500).
Organisations or individuals interested in purchasing the vase should contact the RCEWA on 0845 300 6200.
Images of the vase can be downloaded here.
Published 15 December 2016