News story
Rare silk works at risk of leaving the UK
Ed Vaizey places export bar placed on Jewish artworks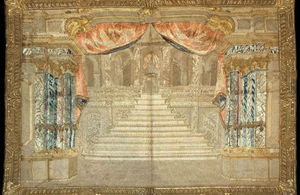 Seven hand-embroidered religious silk hangings depicting the Temple at Jerusalem risk leaving the country, unless a matching offer from a UK buyer can be found.
Culture Minister Ed Vaizey has placed a temporary export bar on the seven hangings, embroidered in gold, silver-gilt and coloured silks, to provide a final chance to raise the £120,000 needed to keep the set in the UK.
The silk works show different views of the first and second temples in Jerusalem. Two show the columns Jachin and Boas, while the others are believed to depict scenes based on engravings which illustrate the second temple.
While both the designer and workshops are unknown their style and technique indicates they were made in northern Italy or Netherlands in the early 18th Century.
Rare finds
Very few textiles containing such a large quantity of gold and silver-gilt thread from this period remain, as most have been destroyed over the years for the intrinsic worth of the materials.
Mr Vaizey said:
This spectacular series of seven silk hangings are among the finest examples left in existence and represent a fantastic opportunity to advance UK scholarship and appreciation of early 18th century textiles and Jewish ritual art.
I hope the temporary export bar I have placed on them will allow time for a UK buyer to step forward and secure them for the nation.
Further information
Published 21 March 2013