Press release
Rare Georgian barometer at risk of leaving the UK
Culture Minister steps in to prevent George III mahogany wheel barometer from export.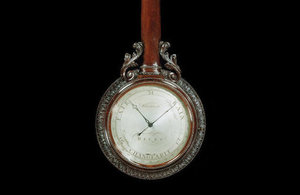 A rare Georgian barometer is at risk of being exported from the UK unless a buyer can be found to match the asking price of £160,000.
Culture Minister Matt Hancock has placed a temporary export bar on the George III mahogany wheel barometer to provide an opportunity to keep it in the country.
The piece is one of a small number of its design known to have been made by the renowned Whitehurst family of clockmakers, from Derby. It is one of only nine of this type known to exist, none of which are known to be in a UK public collection.
During the reign of King George III natural philosophy had become increasingly popular, with scientific instruments finding their way into the homes of the elite classes. The ornate decoration of this instrument indicates that it was intended for this purpose.
The possible association of the barometer with John Whitehurst makes this item of particular interest. As a clockmaker, instrument maker and natural philosopher he was a member of the Lunar Society, became Stamper of Money Weights at the Mint, was painted by Joseph Wright and was elected a Fellow of the Royal Society.
Minister of State for Digital and Culture Matt Hancock said:
This beautiful barometer is more than just an instrument - it also gives us a glimpse into the 18th century home and the increased interest in natural philosophy at the time.

As a rare and important item associated with a significant regional workshop, this fine piece offers an intriguing possibility for further study. I very much hope that we can keep it in the UK for this purpose.
The decision to defer the export licence follows a recommendation by the Reviewing Committee on the Export of Works of Art and Objects of Cultural Interest (RCEWA), administered by The Arts Council.
RCEWA member Christopher Rowell said:
The scientifically sophisticated design of this rare Whitehurst barometer is matched by the high quality of the carved mahogany case.

No other Whitehurst barometer of this model is in a British public collection and its retention in this country is therefore highly desirable.
The RCEWA made its recommendation on the grounds of the barometer's outstanding significance to the study of the Whitehurst family's work.
The decision on the export licence application for the barometer will be deferred until 22 April 2017. This may be extended until 22 July 2017 if a serious intention to raise funds to purchase it is made at the recommended price of £160,000 (plus VAT of £2,000).
Organisations or individuals interested in purchasing the barometer should contact the RCEWA on 0845 300 6200.
Images of the barometer can be downloaded via our Flickr page
For media information contact:
Yasmin Kaye Communications Officer Department for Culture Media and Sport Tel: 0207 211 6489 Email: yasmin.kaye@culture.gov.uk
Notes to editors
1.Details of the barometer are as follows: Wheel barometer. Dial, silvered, signed 'Whitehurst Derby' with 3-inch scale for 29-31 inches of mercury subdivided into hundredths and inscribed for changeable, rain, fair. Case: mahogany, carved with leaves, column (housing the tube) with acanthus leaves at base, and urn finial. Made by Whitehurst of Derby, c. 1770-1780 H 43", W 14", D 2.25"
2.The Reviewing Committee on the Export of Works of Art and Objects of Cultural Interest is an independent body, serviced by The Arts Council, which advises the Secretary of State for Culture, Media and Sport on whether a cultural object, intended for export, is of national importance under specified criteria.
3.The Arts Council champions, develops and invests in artistic and cultural experiences that enrich people's lives. It supports a range of activities across the arts, museums and libraries – from theatre to digital art, reading to dance, music to literature, and crafts to collections. www.artscouncil.org.uk.
Published 23 February 2017