Press release
Ramadan statement
The Foreign Office sends best wishes to all Muslim communities observing Ramadan, in Britain and around the world.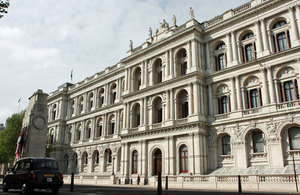 A Foreign Office spokesperson said:
We wish all Muslims, in the UK and around the world, 'Ramadan Kareem'.
We are proud of our strong links with the Muslim world and our global missions will be celebrating with the Muslim communities in which they live and work.
The Foreign Office continues to work for a world that is peaceful, secure and prosperous for all and supports all those who need our help. In particular we remember all those who are kept apart from their families by poverty and conflict, such as those suffering in Syria, Iraq and Yemen. Ramadan Kareem.
Further information
Published 26 May 2017