World news story
Ralph Smith, MBE for services to British community in Spain
British lawyer, Member of the British Empire for his services to British Embassy & voluntary work on behalf of British community in Spain.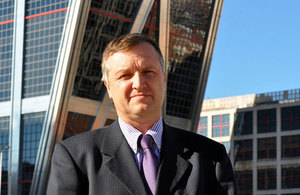 Mr Smith, international counsel at Gomez-Acebo & Pombo law firm in Madrid, was included as a Member of the British Empire in the 2015 New Year Honours for his outstanding voluntary work over many years, including as an active member of the British Cemetery of Madrid committee.
Mr Smith is a qualified lawyer who runs the Cambridge University Association of Madrid. He is also Vice-President of the UK Alumni Network Spain, and has been a member of the college council of the King's group of British schools in Madrid since 2006.
Upon learning about the award, British Ambassador to Spain, Simon Manley, said:
I would like to congratulate Ralph for his richly deserved award after so many years of service to the British Embassy and to the British community in Spain.
Mr Smith said:
It was a wonderful surprise to receive the news. But it's also humbling to realise that nowadays, unless you live as a hermit, in a cave, your work inevitably ends up being a team effort, in my case with the invaluable support of my colleagues at Gomez-Acebo & Pombo, and my wife Vega.
You try to do your job the very best you can, but when something like this happens, it's just a delightful surprise.
Published 31 December 2014