News story
Rail strike, May 2015
The proposed national rail strike on Monday 25 and Tuesday 26 May 2015 has been suspended.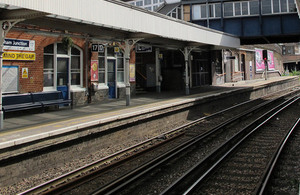 June 2015 rail strikes announced
The May national rail strike has been suspended
Transport Secretary welcomes suspension of rail strikes.
The following information was intended to help passengers prepare for potential rail disruption.
Rail passengers should check with their train operators for the latest timetabling and ticketing information for Monday 25 May and Tuesday 26 May 2015.
Travel information
Rail passengers and people travelling by road are urged to check if they will still be able to travel in the event that a national rail strike goes ahead on Monday 25 and Tuesday 26 May 2015.
Keep informed of updates of the impact of the Network Rail strike on:
You can also follow and report on the impact of the strike on twitter using the hashtag #IndustrialAction.
Preventing or minimising the disruption caused by the strike
Members of the Rail, Maritime and Transport (RMT) and Transport Salaried Staffs' Association (TSSA) trade unions working for Network Rail have announced that they are planning to take industrial action. Further talks between Network Rail and the trade unions continue this week, which may still lead to resolution of the dispute.
However, if the industrial action does go ahead it is likely to cause severe disruption to rail services on Monday 25 and Tuesday 26 May. The impact will vary considerably by route. Rail passengers are strongly urged to check for the latest information on how the strike might affect their train journeys.
Rail engineering works that are cancelled or delayed as part of the industrial action may continue to impact journeys after the strike finishes on Tuesday 26 May.
Train companies have agreed to put in place special ticketing arrangements to make it easier for passengers to travel should the industrial action go ahead.
Disruption to rail services is likely to have a knock-on impact on the road network. The government has called on Network Rail, Highways England, TfL and local government to do all it can to keep Britain moving despite any strike action.
As a result:
Rail media enquiries
Media enquiries 020 7944 3021
Out of hours media enquiries 020 7944 4292
Switchboard 0300 330 3000
Published 21 May 2015