Rail regulator to set out national safety framework for train dispatch
Transport Secretary welcomes the independent Office of Rail and Road report into safety of driver-operated trains.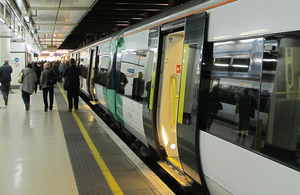 Transport Secretary has asked if the independent rail regulator can set out principles for continuous improvement of train dispatch
the Office of Rail and Road has confirmed GTR's plans for driver-only operation are safe
GTR set out contingency plans for strike action
Transport Secretary Chris Grayling has today (6 January 2017) called for driver's union ASLEF to stop next week's strike after the Office of Rail and Road (ORR) confirmed Southern Railway's plans for driver-controlled trains are safe.
The Transport Secretary has also asked if it is possible for the independent rail regulator, as part of its ongoing work, to develop principles for continuous improvement of train dispatch to further improve the way trains are dispatched across the country – and expects the unions to be fully involved in this process.
The RMT and ASLEF transport unions have been taking strike action over plans to introduce trains where the driver controls the operation of the doors, which the unions claim is unsafe.
Transport Secretary Chris Grayling said:
ASLEF should call off its strike. There are no grounds for the strike to go ahead. The independent rail regulator has confirmed after a further review that driver-controlled trains are safe.

I want our railways to be the safest in the world. I have asked if it is possible for the ORR to set out a national framework for further improvements to the way in which trains are dispatched. I want and hope the unions will be fully involved in this.

The government is doing everything we can to limit the impact of this strike on passengers and I have written to the unions again today to offer to meet. No one is losing their job or earning less as a result of the changes.

Additional measures have been put in place to help people get to work but there will be much less capacity than usual and journeys will take longer. Those who have the option of working from home should do so.
In a report published on Thursday, Ian Prosser, the HM Chief Inspector of Railways, confirmed that driver-only operation on trains on Southern are safe, with suitable equipment, proper procedures and competent staff in place.
The ORR made some recommendations for further improvements, including ensuring that CCTV image quality is consistently high, which GTR-Southern has accepted and is in the process of implementing. The report also suggested some further minor improvements that are required before DOO is introduced at a small number of stations, for example improvements to station lighting.
GTR has given a categorical assurance that trains will either not operate under DOO conditions at these stations until they meet the necessary lighting standards – or, where this is not immediately possible, they will put in place alternative dispatch arrangements, for example station staff dispatch.
Mr Grayling has now written to Mr Prosser welcoming his ongoing work on train dispatch and asked if the ORR can develop a set of principles for continuous improvement which all train operators must follow where DOO is in operation or is being introduced.
In light of the report, the Transport Secretary has written to ASLEF renewing his invitation to meet with them if they call off the strike.
The request comes as drivers are due to strike on the Southern Rail network on Tuesday, Wednesday and Friday next week.
Govia Thameslink Railway has announced a package of measures to ease the strike disruption. The government has also been working to help alleviate the impact on passengers.
However, even with the additional measures, there will be much less capacity than usual and journeys will take longer. Advice to passengers is to work from home where possible, use alternative routes, or alter their journeys to account for the disruption.
A full Thameslink service will run. Extra measures include:
bus services to transfer passengers to other stations to join alternative rail services
National Express will lay on extra services from Brighton to London throughout the week
working with car sharing providers to promote car sharing to passengers
using business networks to encourage employers to support remote working or staggered hours by their staff
Passengers on Southern can claim money back if their train is late by 15 minutes or more. A compensation package where season ticket holders who travelled for at least 12 weeks between 24 April and 31 December 2016 will receive a month's free travel was recently announced.
Rail media enquiries
Media enquiries 020 7944 3021
Out of hours media enquiries 020 7944 4292
Switchboard 0300 330 3000
Published 6 January 2017