News story
Rail Accident Investigation Branch celebrates tenth anniversary
17th October 2015 marks the 10th anniversary of RAIB investigations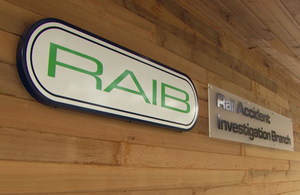 RAIB was set up in the aftermath of the Ladbroke Grove disaster in 1999, when 31 people died in a head-on collision between two passenger trains. Lord Cullen, in his public inquiry into the accident, recommended that the UK should have an independent accident investigation body for railways, equivalent to those previously established for air and marine accidents. In October 2005, RAIB started investigating UK railway accidents.
The role of the RAIB is to independently investigate accidents in order to improve railway safety and inform the industry and the public, but never for the purpose of apportioning blame. We have established a reputation for thorough, impartial and hard-hitting investigations covering every aspect of the railway industry. Although we are part of the Department for Transport, our investigations are independent of government and the railway industry.
RAIB has a total of 43 staff, based in both Derby and Aldershot, available to immediately go to a rail accident anywhere in the UK at any time of day or night; whether to the north of Scotland, Northern Ireland, Cornwall or anywhere between. Over ten years, we have been notified of around 4000 incidents, deployed to site around 500 times and undertaken just under 300 full investigations.
We are proud to have made an important contribution to the significant improvement in railway safety witnessed over the last decade. According to the RSSB Annual Safety Performance Report 2014/15, passenger and workforce fatality rates are the lowest in Europe. However, neither the rail industry nor the RAIB can afford to be complacent.
The acting Chief Inspector, Simon French said:
My team and I are delighted to have reached this important milestone in the history of the RAIB and are determined to continue to serve the public and railway industry by carrying out high quality investigations. We believe it is important to keep working with our stakeholders in every part of the railway industry to disseminate the message that a careful examination of 'what went wrong' is an important way of revealing the gaps in the industry's safety defences.
Now that the Branch has established its reputation, we have set ourselves an objective to explain to the wider railway community, and the general public, the work that we do and how we go about it. With this in mind, we have prepared a series of short videos to mark our anniversary, outlining our role and giving examples of how we approached some important investigations.
Published 16 October 2015