Press release
RAIB releases its first Safety Digest: Ivybridge
RAIB has today released its first Safety Digest, following a collision between two freight trains in a worksite near Ivybridge, Devon.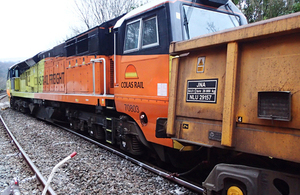 Safety Digests are a way of quickly sharing important safety messages when we have decided not to undertake a full investigation for any of the following reasons:
the safety learning has already been covered by a previous recommendation or will be addressed by an ongoing investigation
the safety learning mainly relates to compliance with existing rules, procedures or standards
the safety learning has a narrow application.
You can subscribe to automated emails notifying you when we publish our reports and Safety Digests.
Notes to editors
The sole purpose of RAIB investigations is to prevent future accidents and incidents and improve railway safety. RAIB does not establish blame, liability or carry out prosecutions.
For media enquiries, please call 01932 440015.
Newsdate: 19 May 2016
Published 19 May 2016
Last updated 20 May 2016
+ show all updates
RAIB Safety Digest published

First published.