Press release
RAIB Annual Report 2014 published
Rail Accident Investigation Branch Annual Report published for the operational period ending 31 December 2014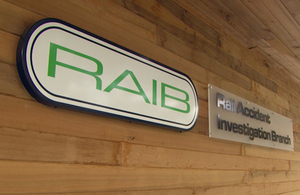 The report is published in two sections; Section 1 covers the work of the RAIB in 2014 and includes review of the industry response to the areas of risk identified by our investigations. Section 2 covers the status of recommendations as reported to the RAIB.
During 2014, the RAIB published 29 investigation reports, 1 bulletin and started a further 19 investigations.
In accordance with the requirements of the Railway (Accident Investigation and Reporting) Regulations 2005, Section 2 of the report (Reported status of RAIB's recommendations - 2014), provides details on the implementation status of recommendations made by the RAIB as reported by the safety authority or other public bodies.
Notes to editors
The sole purpose of RAIB investigations is to prevent future accidents and incidents and improve railway safety. The RAIB does not establish blame, liability or carry out prosecutions.
Under Article 23 of the European Railway Safety Directive 2004/49/EC, the RAIB is required to produce an Annual Report accounting for the investigations carried out in the preceding year, the safety recommendations that were issued and actions taken in accordance with recommendations issued.
For media enquiries, please call 020 7944 3248.
News date: 8 June 2015
Published 8 June 2015