News story
RAF's top female officer interviewed
Air Vice-Marshal Elaine West, Defence's most senior female officer, is the subject of an interview on Sky News.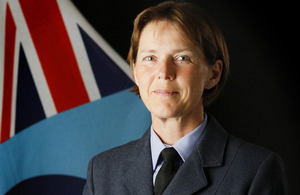 Elaine West became the first woman to be promoted to the rank of Air Vice-Marshal in the RAF in August.
In her first interview since being promoted, she speaks about the role of women in the Armed Forces and how she feels that there is no 'glass ceiling'.
Air Vice-Marshal West works as the Director of Projects and Programme Delivery at the Defence Infrastructure Organisation.
She programmes and delivers multi-million-pound infrastructure projects to support military training, improve defence capability and oversee the drawdown of Army units from Germany.
Prior to her promotion, the highest rank held by a regular serving female officer in the modern day RAF was Air Commodore.
The highest ranking female officer in the Navy has been Commodore and the highest rank achieved by a woman in the Army has been Brigadier.
Air Vice-Marshal West joined the RAF in late 1978 and climbed through the ranks over her 34-year career.
Published 4 December 2013