RAF's largest ever aircraft arrives in the UK
The first of the RAF's future strategic tanker aircraft (FSTA) arrived in the UK for the first time today. The UK's largest ever military aircraft will be known as 'Voyager'.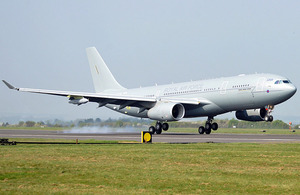 With a 60m wingspan, and measuring nearly 60m from nose to tail, Voyager, a dual role air-to-air tanker and transport aircraft based around the Airbus A330 airframe, will replace the long-serving VC-10 and Tristar fleet; with the first due in service by the end of the year.
The new aircraft will bring a considerable capability boost, each able to carry 291 troops over 6,000 miles, and to refuel other aircraft, in flight, from a 100,000 litre reservoir - greater than that of two large petrol tankers.
MOD pictures show the aircraft at the MOD's airfield at Boscombe Down in Wiltshire, which will play host to two of the Voyager aircraft during an intensive programme of testing and trials, set to continue into 2012.
On the ground and in the air, the aircraft will be tested in the refuelling role, with Tornado, Sentry, Typhoon and Hercules aircraft. Voyager can refuel aircraft at a rate of 5,000 litres per minute; a standard garage forecourt petrol pump delivers fuel at around 40 litres per minute.
Fourteen Voyager aircraft and a complete support package are being provided to the RAF under a 27 year £10.5bn Private Finance Initiative contract signed with the AirTanker consortium in 2008.
In addition to the aircraft, the package will provide training and maintenance, and new purpose-built buildings at RAF Brize Norton, the RAF's air transport hub.
Minister for Defence Equipment, Support and Technology, Peter Luff, commented:
The arrival of the first Voyager aircraft in the UK marks an important milestone in the process that will see the Royal Air Force equipped with the best available air-to-air refuelling capability, with the first due in service by the end of the year. "Recent events in Libya and the ongoing requirement for air-to-air refuelling over Afghanistan, clearly demonstrate the essential role that air-to-air refuelling plays in getting our aircraft to where they are needed.
Air Officer Commanding 2 Group, responsible for combat support, Air Vice Marshal Phil Osborn, said:
As we have seen over the last few weeks, an effective tanker and transport force is an essential ingredient to this era of expeditionary warfare.
Over the next few years Voyager will join the versatile A400M transport, C-17 strategic airlifter, and well-proven Hercules transport aircraft to form an RAF fleet that can handle any task that comes its way in the future. I look forward to a successful trials programme that will keep the aircraft on track for delivery at the earliest opportunity.
Published 18 April 2011