RAF wins equality and diversity award
The RAF has scooped a top accolade in the Race for Opportunity Awards 2012.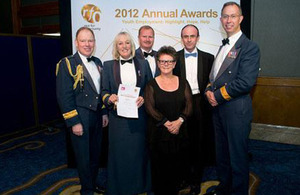 The Service was highly commended for its efforts to encourage youngsters from black, Asian and minority ethnic backgrounds to study science, technology, engineering and maths.
To do this the RAF developed a schools roadshow in collaboration with BAE Systems and the Royal Academy of Engineering to attract students into these subject areas and boost their recruitment into the military.
The 2012 roadshows are on track to exceed their target of 25,000 students, and, to date:
84 per cent of boys and 80 per cent of girls have had a positive change to their view of engineering and science
100 per cent of the teachers involved said they were useful to the students.
In recognition of this achievement the Race for Opportunity judging panel honoured the RAF with a Highly Commended Award in the Collaboration and Partnership category - one of just nine awards available.
Headquarters Air Command Equality and Diversity Officer Squadron Leader Sarah Maskell said:
This was a fantastic achievement when facing fierce competition from large multinational organisations such as Goldman Sachs, PricewaterhouseCoopers and Shell.
The judging panel reiterated that the calibre of entries was so high this year that they had utilised the Highly Commended Award to recognise those who narrowly missed out on the top award, and to be shortlisted was an achievement in itself.
Air Commodore Nigel Beet, who is the senior officer in charge of personnel policy at HQ Air Command, received the award at a ceremony attended by more than 500 guests from a wide variety of commercial, voluntary and public/private sector backgrounds, including the RAF's partners in the schools roadshows - BAE Sysyems, Generating Genius and Sheffield Hallam University.
Published 17 October 2012