RAF wins culinary challenge
The RAF Culinary Arts Team remains undefeated for a fourth consecutive year having won the Challenge Shield at last week's Exercise Joint Caterer (formally the Combined Services Culinary Challenge) that took place at Sandown Park Racecourse in Surrey.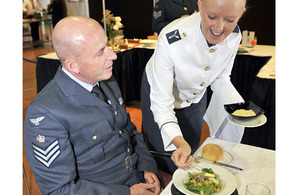 The exercise provides the opportunity for all three Services to demonstrate their culinary skills and take part in a series of competitions designed to showcase the professionalism, skills and expertise of catering staff across the forces and highlights the importance of continual professional training and development.
RAF team manager, Warrant Officer Ian Goddard, said:
It's amazing! The team performed exceptionally well. To be the team manager is a great honour and privilege. The last three days I have felt like an expectant father and to win is fantastic. It's been a busy and stressful few days as they have been judged by the best in the military and in industry.
One such industry expert was Richard Corrigan, the popular Irish Michelin-starred chef who has written a number of books and has won BBC TV's Great British Menu three times. Commenting on the buffet team, who were awarded Gold 'Best in Class', he said:
It's visually beautiful. It's an incredible skill and the military are keeping the cold work going; out in the restaurant scene it's all about plated food. I think it's special, it's a team effort and it's disciplined.
I'm excited to see craftspeople working at a really high level, being passionate and totally committed to their profession.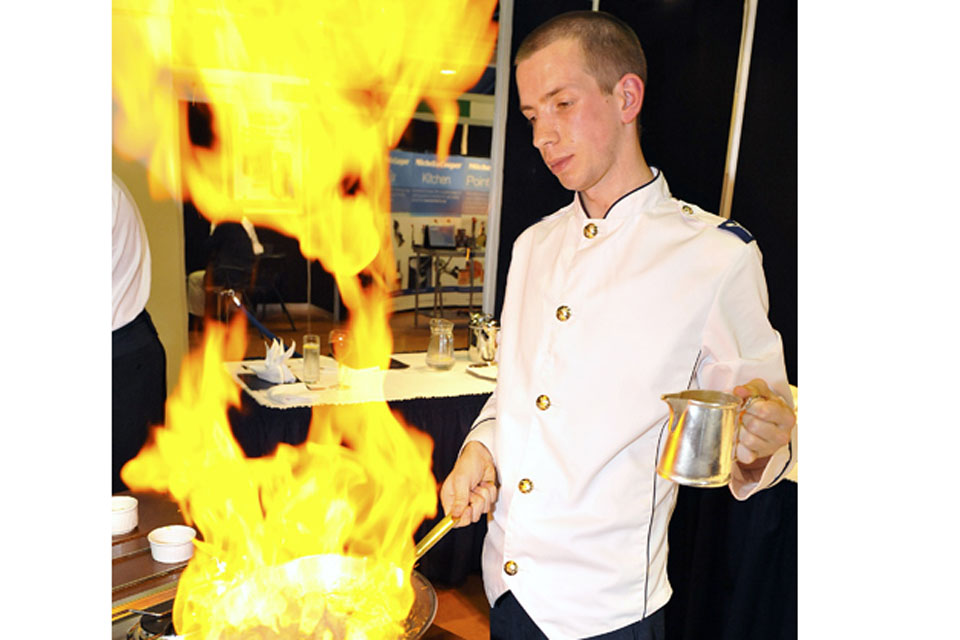 Coming from the restaurant scene we're all bound up in our world, but coming out to see the guys in the RAF cooking at this level is fantastic. I walk away with a very good impression.
Richard has spent time at RAF Halton, home of the Catering Training Squadron (CTS), where he met Corporal Jason 'Bomber' Wood. Corporal Wood was awarded Silver 'Best in Class' in the Senior Chef of the Year category. He said:
Earlier this year I took part in the RAF Skills and Awards Competition and Richard judged my dessert as the outstanding plate of the day. The prize was a work placement and meal in Richard's Mayfair restaurant so I'm really, really looking forward to that!
There was a hive of activity in the exhibition hall as flambé flames leapt high into the air courtesy of Senior Aircraftman Andrew Kerr, from RAF Leuchars, who won bronze:
This is my second time in this competition and the flambé section is very enjoyable," he said. "When I was doing my initial run throughs, once or twice I didn't get a flame, either because there was too much or not enough caramel or the pan wasn't hot enough, so it just fizzled.
But my competition flambé was my most successful flame to date!
Love was the dish of the day as Maddi Sanderson travelled for five hours from Birmingham to see her fiancé of three days, Aircraftman Sam Smith, from CTS Halton, take part in the Junior Chicken Dish section:
I'm only two weeks into training and this is my first time taking part in the competition," he said. "I really enjoyed it and the intensive training really helped. I'm so proud to have Maddi and my mum here; when they turned up it instantly put a smile on my face and calmed me down.
Corporal Carl Williams, from RAF Honington, also had a smile on his face as he and the open field team won silver:
Most of my career I've cooked on operations and I've been a chef for seventeen-and-a-half years," he said. "I really enjoy cooking but it's the first time I've competed and I know now what the judges are looking for; it wasn't as nerve-wracking as I thought it would be.
Also taking silver was Senior Aircraftwoman Kerri Holmes, from RAF Lossiemouth, who took part in the Junior Steward Skills section:
I only got told a week ago I was competing so I've been practising as much as I can. My OCD [obsessive-compulsive disorder] helps in this job! In the future I'd love to be an Air Steward at RAF Brize Norton.
Published 4 October 2011