RAF units to remain at Scampton
It has been announced that RAF Scampton is to remain the base for the RAF Aerobatic Team (RAFAT) - also known as the Red Arrows - and the RAF's Air Surveillance and Control System (ASACS).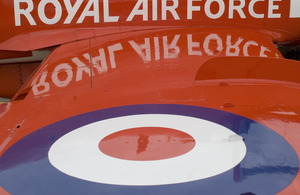 The Royal Air Force had planned to relocate the ASACS infrastructure, as part of wider force restructuring, from RAF Scampton in advance of the 2014 drawdown date of the station.
In a written statement to the House of Commons, Armed Forces Minister Nick Harvey said:
However, we have now identified that, due to cost and capability grounds, the ASACS infrastructure should remain at RAF Scampton, with any future decisions on its basing examined as part of other projects.
Additionally, the most effective way of operating RAFAT without impacting on other flying is to stay at RAF Scampton. This means that both RAFAT and the ASACS unit will be retained at the station until at least the end of the decade.
This decision does necessitate scheduled maintenance to resurface the RAF Scampton runway, and this will commence later this year.
Published 18 June 2012