RAF Typhoons move to Northolt for Olympics
Royal Air Force Typhoon aircraft have arrived at RAF Northolt ahead of their role providing air security throughout the Olympic Games.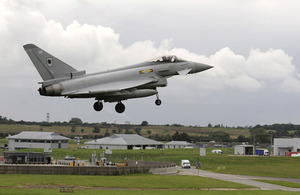 The advanced multi-role fighter jets, which saw active service over Libya, are part of a multi-layered air security plan to protect the London Games, and arrived at RAF Northolt yesterday, Monday 9 July 2012.
The additional security measures build on the RAF's existing air security arrangements, with RAF Typhoon fighter jets available 24/7 to be scrambled from their bases in Lincolnshire and Scotland to intercept unidentified aircraft.
Personnel and aircrew from RAF Coningsby in Lincolnshire and RAF Leuchars in Scotland have been preparing for their Olympics role for many months, and have already taken part in a series of demanding training missions; working alongside RAF helicopters, ground-based radar controllers and colleagues from the other Services.
Squadron Leader Gordon Lovett, who is leading the detachment of four aircraft whilst at their temporary home at RAF Northolt, said:
The aircraft flying into RAF Northolt over London today reminded all of us of how important our mission is to ensure a safe and enjoyable Games for everyone.
On behalf of the RAF, we are really proud to be able to make this contribution.
This is the first time that RAF fighter aircraft have conducted live operations from the historic West London airfield since the Second World War, when RAF Northolt played a key role in securing London's skies.
RAF Northolt will also host Royal Navy Sea King helicopters as part of the multi-layered air defence plan, which also includes RAF E-3D Sentry surveillance aircraft, sniper-carrying helicopters, RAF ground-based radar systems, and Army air defence missile systems, which will operate in support of the Department for Transport and Civil Aviation Authority airspace restrictions and the overall Home Office security plan.
Air Commodore Gary Waterfall, Deputy Commander for Olympics Air Security, said:
This deployment to an airfield with an historic role in defending London is a reminder that our air security preparations build on the decades of Royal Air Force experience in controlling the air to protect the UK.
There is no specific threat to the Games, but we have to be ready for all eventualities. With the additional capabilities we are adding from the RAF, and from our colleagues in the Royal Navy and the Army, this is a robust plan that enables us to respond appropriately to a range of possible situations.
Published 10 July 2012