News story
RAF Typhoon aircraft exercise in UAE
Typhoon aircraft of 6 Squadron have been exercising with a multinational contingent at Al Dhafra Air Base in the United Arab Emirates.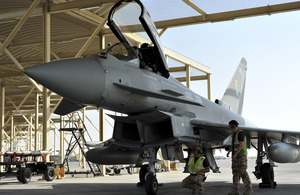 This has been the first time that aircraft, engineers and pilots from the squadron, normally based at RAF Leuchars, have deployed together on the Advanced Tactical Leadership Course (ATLC), which runs each year at Al Dhafra Air Base.
Wing Commander Mike Baulkwill, Officer Commanding 6 Squadron, said:
We have been sent out here to conduct this multinational exercise that looks at large scale air operations involving many aircraft.
The exercise has been run over a number of weeks, giving the pilots, ground crew and support staff an opportunity to work alongside other nations. The squadron have been running air interdiction missions, self-escort missions and offensive and defensive counter air missions as part of the exercise. This has required the pilots and aircraft to be quick and reactive in a multi-role platform in all types of operational scenarios.
The exercise has been conducted in 2 parts - one wave of flying per day in support of the ATLC missions and one following wave each day where the pilots can fly alongside multinational aircraft to conduct further training.
Wing Commander Baulkwill added:
We have seen the ground crew and pilots from 6 Squadron lead and operate in a very different environment. Everybody at every rank is learning something from this exercise. We are learning to operate fully combat capable aircraft in a hot and dry environment which is very different to conditions at RAF Leuchars in the UK.
Senior Aircraftman Sam Norry, an Aircraft Maintenance Mechanic on 6 Squadron, said:
This is my first detachment and it has been much harder work out here. There are a lot more elements to contend with - temperatures alone are incredible, you have to drink a lot more water. Not only that, on the engineering side of things, you don't have that instant support that you have in the UK - there are fewer people to work on the aircraft so you really have to work together and work hard to get the jobs done.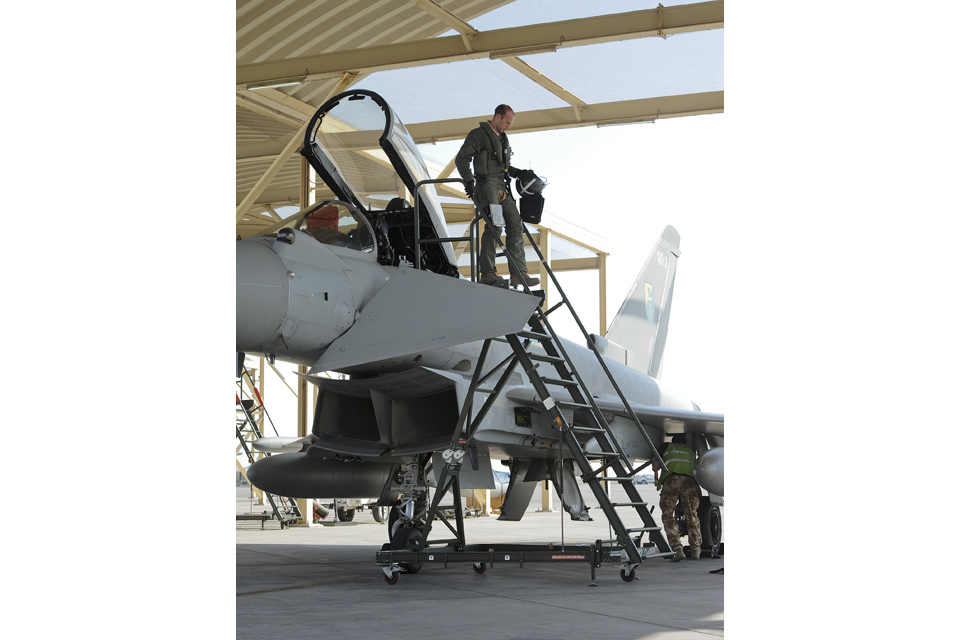 To summarise the squadron's support to the ATLC, Wing Commander Baulkwill said:
We have been operating huge missions with other nations, sometimes operating an air picture involving 60 aircraft with simulated high threat missions. It has been incredibly hard work for all of the pilots and the ground crew to support this.
We have found ourselves pushed hard, and the Typhoon aircraft has performed exceptionally well.
The systems that it has on board are second-to-none and we have seen the benefit of that - it has been impressive to say the least.
Published 11 January 2013