RAF Tucanos support front line operations
RAF Linton-on-Ouse is using its fleet of Tucano aircraft to help train pilots and Army controllers for front line duties.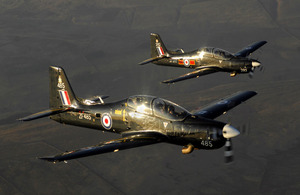 Home to No 1 Flying Training School (1 FTS), the RAF station in the Vale of York is one of the busiest airfields in the UK.
Tasked with the training of future fast jet pilots for the Royal Air Force and Fleet Air Arm, the Station's fleet of 40 Tucano T1 aircraft are now also providing direct support to army units preparing for operations in Afghanistan.
We're enjoying a busy period of flying," explained the Station Commander, Group Captain Terry Jones.
Training the next generation of fast jet pilots, conducting close air support sorties for the Army, providing targets for air defence exercises and working up for the Queen's Diamond Jubilee flypast all mean that our flying rate is high.
We currently have 19 ab initio [beginner] pilots in training here, which is four courses' worth of students. We'll soon have five courses and at any one time we have six refresher courses. When you put all that together that's a lot of flying.
Following the disbandment of 207(R) Squadron in January this year, it falls to 72(R) Squadron to prepare students for advanced jet training on the Hawk T2 at RAF Valley.
Our primary focus is training fast jet pilots which gives us our raison d'etre," said Wing Commander Richie Bedford, Officer Commanding 72 (R) Squadron.
The students are the energy of the squadron and keep us all feeling young.
Having entered RAF service in 1989 when it replaced the Jet Provost, the Tucano remains an ideal training aircraft in Wg Cdr Bedford's view:
The platform itself is more than adequate for basic flying and is a step up from a Tutor, with the course here including an introduction to time-on-target, low-level navigation and advanced formation flying.
Because of its nature, the Tucano is relatively easy to fly, but to fly it well takes some time and effort, so it gives you a good grasp of a student's progress and future capability. It certainly stretches students.
He added:
We're looking for ability to handle the aircraft but also captaincy, airmanship, situational awareness, decision-making - those skills you can transfer to any aircraft so if you can develop them here at an early stage it will stand them in good stead for their future careers.
As well as training frontline pilots, the Tucanos at Linton also now help provide support to the training of Joint Terminal Attack Controllers (JTAC), formerly known as Forward Air Controllers - skilled personnel who direct close air support and other offensive air operations from forward positions.
We're doing more close air support with Tucano, not with students but with instructors to help JTACs maintain currency," said Gp Capt Jones. "We've set aside 500 hours each year to do this and it's been extremely successful.
Much like pilots, JTACs have to remain current and by using Tucano we can complement the fast jet training already available.
With a readjustment of pilot training following the Strategic Defence and Security Review, the commitment of front line jets to operations over Libya and a general shortfall in JTAC currency, training using the Tucano for a task previously reserved for jets has proven an ideal solution for all concerned.
The new role also has the added benefit of maintaining the close air support skills of instructors:
It enables them to maintain core close air support (CAS) skills, which pilots can take back to the front line after their tour here," said Flight Lieutenant Ben James.
We have front line pilots from different aircraft types who bring different experiences and techniques on how their particular aircraft does CAS.
JTACS will work with various aircraft platforms in theatre and so we try and emulate those aircraft, not only in performance but also the terminology, the weapons they carry and how they are delivered, and the sensors on board.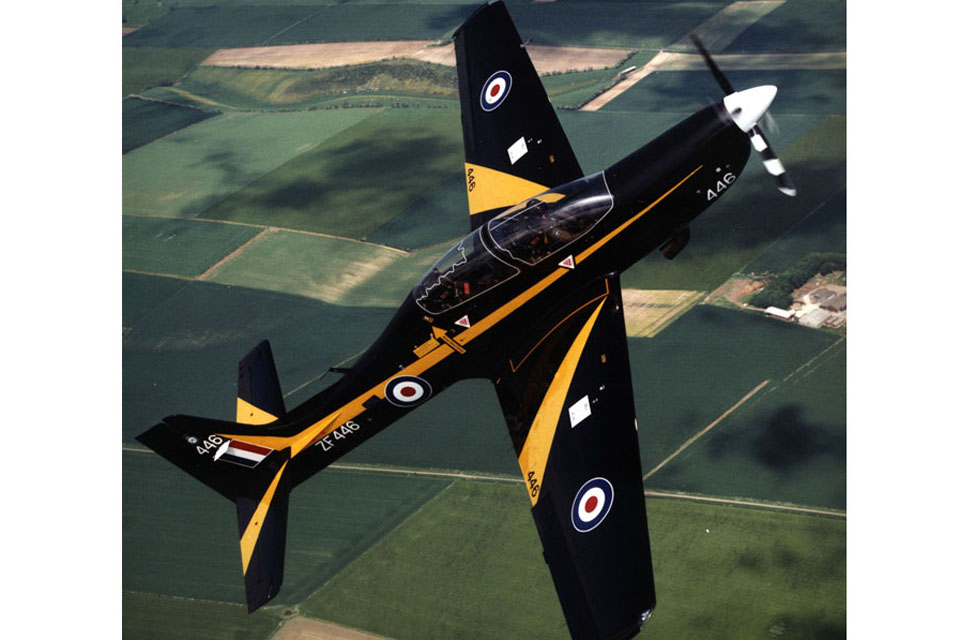 The Tucano does a very good impression of a Reaper unmanned air vehicle (UAV) and, somewhat remarkably, a US A-10 Thunderbolt.
We're not too far behind an A-10 in terms of performance, but we can be whatever aircraft the JTAC wants us to be," said Flt Lt James.
JTAC training missions are usually flown dual, students often taken along to see some tactical flying to give them an early understanding of what's involved.
We have a long endurance on Tucano and can stay on station for more than two hours," said Flt Lt James. "This is of huge benefit to the JTACs, whose training is achieved far quicker than with a fast jet.
Techniques flown include medium-level CAS, low-level CAS, and joint fires integration with a time-on-target, the flight profiles flown by Tucano simulating various operational aircraft varying from a UAV to a B-1 bomber.
Reducing the demand on the front line fleet has obvious advantages; not least cost, but to realistically emulate a complex strike aircraft the Tucano pilot has to be experienced.
Whilst predominately a flying station, activity at Linton-on-Ouse is diverse:
There's a lot going on here," said Gp Capt Jones. "We provide Air Traffic Control to 4 bases (Linton, Dishforth, Topcliffe and Church Fenton) and provide a home for HQ Northern Region Air Training, the Tucano and Glider Support Authority, and the MOD Police Operational Support Unit North.
Since January, the station has also been the base for the AgustaWestland Helicopter Tactics Simulator, which trains 12 aircrew every three weeks in preparation for Afghanistan and has successfully integrated the Yorkshire Air Ambulance into RAF Topcliffe.
This is a great place to be at the moment, and I'm very proud of the huge contribution that my personnel achieve with such modest resources," said Gp Capt Jones.
Published 24 May 2012