RAF Tornados destroy former regime vehicles in Libya
During an armed reconnaissance patrol over Sebha in southern Libya yesterday morning, Royal Air Force Tornado GR4s located a number of former regime armoured vehicles occupying dug-in positions near the town.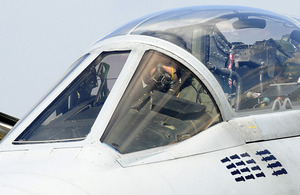 Three of the vehicles were destroyed by RAF aircraft.
NATO was also maintaining an intensive presence over the coastal city of Sirte, and during the afternoon an RAF patrol identified one of Gaddafi's multiple rocket launchers to the east of the city.
A Brimstone missile destroyed the vehicle.
Major General Nick Pope, the Chief of the Defence Staff's Communications Officer, said:
At sea, Royal Navy vessels, including HM Ships Liverpool and Bangor, remain on patrol off the coast ensuring the free movement of shipping, especially the humanitarian supplies needed by the coastal communities after months of conflict.
UK missions over Libya are undertaken as part of NATO's Operation UNIFIED PROTECTOR to enforce United Nations Security Council Resolutions 1970 and 1973 and protect Libyan civilians at risk of attack.
Published 14 September 2011