RAF Tornados demonstrate their capabilities
Since October last year, RAF Tornado GR4 squadrons have been flying over the landscape of Afghanistan providing support to troops on the ground. But it is not just awesome firepower that these fast jets can deliver.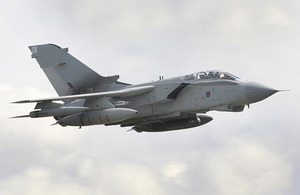 RAF Marham, which operates four Tornado squadrons, put on a capability demonstration at the Norfolk-based airfield on Friday 26 November 2010 to show off the jets' capabilities.
RAF Marham's Station Commander and Tornado Force Commander, Group Captain Pete Rochelle, said:
The Tornado GR4 is providing support to ground forces when they come under attack and its sophisticated intelligence and surveillance capabilities are playing a key role by searching for IEDs, which is one of the largest threats to UK and international forces.
Personnel from XIII Squadron, who have just returned from a busy three-month tour on operations, were on hand to explain just what the Tornado Force is all about. Squadron Leader Matt Grafton said:
We are going to show you an escalating scenario which starts with a ground patrol coming under fire who then call for support.
In the distance a patrol making its way down the runway is suddenly halted by small arms fire. Minutes later, the unmistakable growl of a GR4 passes overhead at 12,000 feet (3,700m):
Often the noise is enough to put people off," said Sqn Ldr Grafton.
On this occasion, it doesn't work. An escalating show of force is called for and the Tornado screeches past again at low level:
We do not relish dropping weapons, it's not what we want to achieve," said Sqn Ldr Grafton.
The scenario escalates through stages until the ultimate sanction, a strafing from the aircraft's Mauser machine guns tears up the grass around the runway and ends the 'Taliban ambush' - all simulated of course.
Impressively though, throughout the demonstration, a live datalink has shown just how the aircrew and the ground patrol have been communicating during the sortie.
Throughout, the aircraft has been sending the troops on the ground real-time imagery of what is going on around them. Group Captain Hine, Station Commander at RAF Lossiemouth, explained:
The Tornados give the guys on the ground a god's eye view. We can advise them where they might want to have a closer look, or where they may want to avoid.
During their three-month tour, XIII Squadron flew eight missions a day. Within hours of returning from each sortie, the Tactical Imagery-Intelligence Wing (TIW) analysed the film gathered from the Tornado's Reconnaissance Airborne Pod and Litening III targeting pods and provided threat warnings to ground troops of possible improvised explosive devices.
Wing Commander Andrew Stewart, Officer Commanding TIW, said:
The imagery we provide is absolutely critical to ground forces. If they are planning for an operation we can provide them with high quality imagery and geographic products which gives the ground troops situational awareness.
Helicopter landing areas can be identified and places that could be prime locations for ambushes avoided. And having identified the problems, the Tornado can also sort them out:
The Tornado is absolutely the right combat ISTAR [Intelligence, Surveillance, Target Acquisition and Reconnaissance] platform," said Sqn Ldr Grafton. "It can find a target and deal with it cleanly and accurately without any other airborne assets having to be engaged.
Published 29 November 2010