RAF Tornados clock up 7,000 flying hours over Libya
RAF Tornados operating in support of NATO's Operation UNIFIED PROTECTOR to protect the civilian population of Libya from attack have now clocked up over 7,000 flying hours.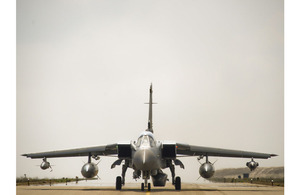 That's the equivalent of approximately two years' worth of training sorties back in the UK.
Operating from Gioia del Colle air base in southern Italy, the tempo of operations has been relentless, and IX (Bomber) Squadron has been at the forefront of the mission.
The Tornado Squadron was one of the first fast jet squadrons to deploy to the area. Officer Commanding IX (Bomber) Squadron, Wing Commander Andy Turk, explained how quickly they had to prepare:
We deployed here at very rapid notice; we had returned from our pre-deployment training exercise in the United States.
In fact, we got back on the Monday, by the Wednesday we were 'spinning up' for ops and on the Friday we were prepared to launch; an historic 3,000-mile [4,800km] Storm Shadow sortie - the first UK-launched combat sortie since the Second World War.
With nearly 30 years' front line service, the Tornado aircraft have been proving their worth.
Over the skies of Libya they have integrated closely with the Typhoons; indeed, with their combined, multi-role capabilities, they have proven to be a 'powerful and potent' force.
Wing Commander Turk described how this integration has contributed to the success of the RAF's air campaign and has earned the respect of the coalition:
Whilst the Tornado looks much the same as the one rolled out the factory 30 years ago, inside it's a completely different animal; it's all down to avionics upgrades and now its capability is just remarkable.
It stands out in the coalition because of the selectable options we can provide in the air; with its targeting pod, the variety of weapons and being a two-man crew means it is a particularly effective platform.
This capability is further improved when combined with a Typhoon, you have three guys over a target providing a very potent package of air power.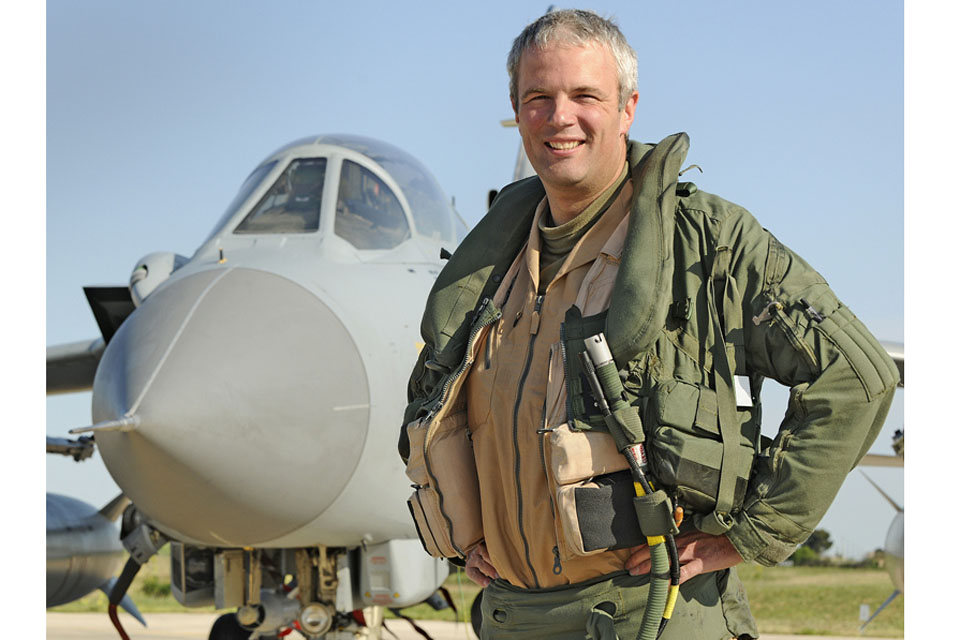 But it's not all about the aircrew, the engineers and air maintenance mechanics (AMMs) of IX (Bomber) Squadron have been working 24-hours-a-day, seven-days-a-week to keep the aircraft flying, allowing them to complete all their missions; it's been a huge team effort. Wing Commander Turk added:
We're a really tight team, from the engineers to the aircrew. With the rapidly changing environment that we're operating in, we have frequently had to scramble aircraft to support the ground effort in Libya and protect the civilian population from attack.
The guys have been pulling out all the stops and they never fail to deliver to get our aircraft flying. The only way that happens is by having really sharp engineering management, leadership at all levels, and then having the professionalism and dedication of the guys; they truly are inspirational.
Senior Aircraftman Daniel Poole is an AMM with IX (Bomber) Squadron; Op ELLAMY is his first experience of being deployed.
His training and the support from his fellow engineers has ensured he's fully prepared to deal with whatever challenges may arise, but nothing can prepare them for the intense heat:
I underestimated how hot it was going to be; when you're working around hot engines and you're stood for any length of time in your overalls, it's boiling and you're just dripping in sweat," he said.
It's at its worst when the aircraft lands in the middle of the day; it can be 36 degrees but the engines are so much hotter because they have been flying for about six hours or more, that's when you've got to get underneath and get stuck in to get the oils changed.
It can be tough, but there's always a good bit of banter; whoever's first to the jet gets 'dibs' on the part they're servicing - you learn quick!
Despite the unyielding pace of operations, the Tornado Force has never failed to deliver, reaching almost 1,400 sorties in just over six months.
Flight Sergeant Simon Roberts, an avionics engineer by trade, has worked on Tornados for over 30 years. He said:
There's a massive sense of satisfaction when you can get all the aircraft ready in time and out and they come back having successfully completed a mission without any problems.
That justifies coming out here, it justifies all the hard work prior to us deploying and all the hard work whilst we're here in theatre.
IX (Bomber) Squadron is now the only UK fast jet capability in theatre and the experienced and committed air and ground crews remain determined to make a positive difference to the Libyan people. Wing Commander Turk said:
The best thing is to go back to the engineers and say 'you know when you saw me off, and we had that crew in 'snag', you worked really hard and I could see the sweat pouring from your brow; well, we got airborne and we saved a dozen villagers from pro-Gaddafi tanks driving down the main road heading in their direction'.
The guys' jaws literally drop and then they understand the whole reason for it and why they're working so hard.
They're even more dedicated knowing the bigger picture and that their contribution is having tangible effects on the ground. It's important they understand that. It's quite moving actually.
Published 7 October 2011