RAF Tornados attack Gaddafi-regime building
Royal Air Force Tornados in Libya have successfully destroyed part of a building being used by Gaddafi-regime forces to launch attacks on Misurata.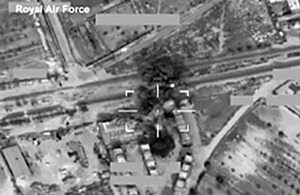 The aircraft were ordered to destroy only the top two floors of the building on the outskirts of the besieged Libyan city, and did exactly that, in an attack that demonstrated the level of precision that RAF crews can deliver.
The building was being used by pro-regime forces to target Misurata with rocket, artillery and heavy machine gun fire. RAF aircraft were directed to the area early on Sunday 8 May 2011.
The pilot of the lead aircraft explained:
We were tasked to go to an area. When we arrived, we established communications with another aircraft in the area. It directed us to a building.
The aircraft was directed to attack immediately and destroy the top two floors of the building using two bombs to target each wing of the structure.
The pilot said:
It is unusual to be directed in this way [an immediate attack]. It means that all the checks have been done in advance.
A number of checks are carried out before any attack to ensure that the target is legitimate and that collateral damage is minimised. They are often carried out by pilots, but in this case they were complete, meaning that the Tornado could strike immediately.
The flexibility of the weapons used, Paveway IV bombs, means that the crew were able to attack in a way that precisely destroyed the top floors, while leaving the rest of the building standing.
The two bombs were released simultaneously. Images from the aircraft's targeting pod show clearly how they penetrated the roof within seconds of each other and then exploded inside the building to demolish the two floors.
Published 11 May 2011