RAF Tornado pilots go straight into action in Afghanistan
Newly arrived RAF Tornado pilots to Afghanistan have already flown over Helmand Province several times providing crucial support to coalition ground operations.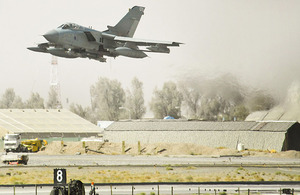 Flying out of Kandahar Airfield the Tornado GR4 provides crucial reconnaissance of the country and is one of many coalition fast jets in Afghanistan that can be 'scrambled' at short notice to assist ground 'troops in contact', a term used when forces are under enemy fire.
Flight Lieutenant Ben Mark, part of II (Army Co-operation) Squadron, normally based at RAF Marham in Norfolk, arrived in Afghanistan at the beginning of June. He explained his role in Afghanistan and the missions he has already undertaken:
Our primary role is to fly in support of coalition land forces.
Today's task was just over three hours in the air, providing over watch for some British troops setting up a forward operating base.
My job was to observe what was going on around them, to keep an eye on them and offer help if they needed it. From our height we are able to see the bigger picture of what is happening on the ground.
However, the previous day's mission was a much hotter affair:
A Forward Air Controller (FAC) out on patrol with United States troops asked for fast air support," Flt Lt Mark said.
We were tasked as the nearest available jet, so he talked us to his position, giving us his location and telling us what was going on around him.
We could hear the bullets being fired and the nerves in his voice as he asked for our help.
As in this incident, almost all of the communication a Tornado crew will have is with a Forward Air Controller.
They could be any of nationality, and are usually Army personnel who will have a good understanding of what air support can offer.
Getting the jet to where it needs to be is the job of navigator Martin Cutting, who said:
Although we are armed when we fly, deploying bombs from the aircraft is always a last resort - we often carry out what is called a 'show of force'.
Flying low and fast lets potential enemy forces know we are there, it's the noise we create that makes the difference. We can often deter the enemy from taking further action against our troops on the ground.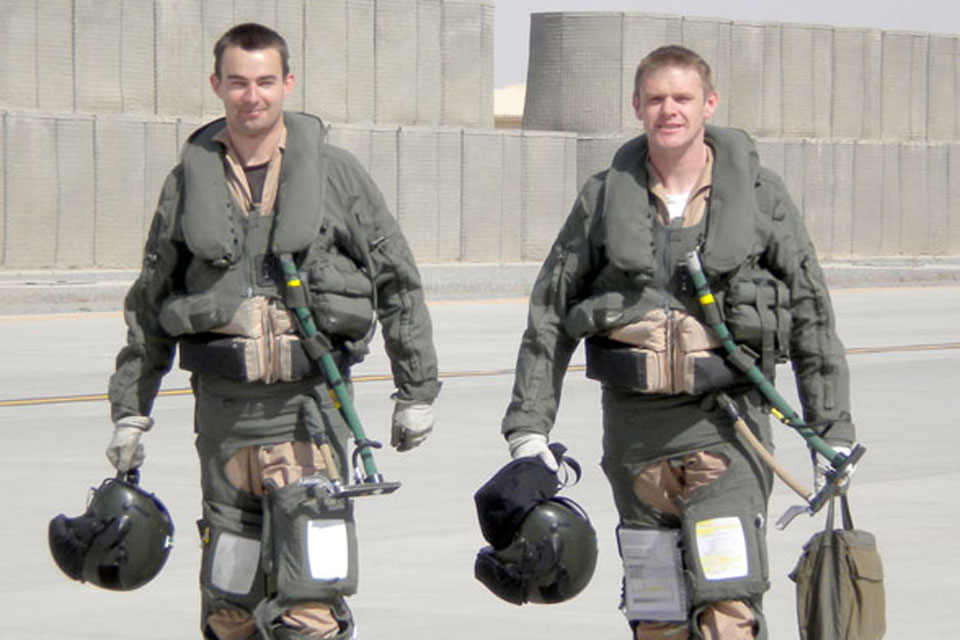 Flying alongside experienced personnel like Flt Lt Mark are crews on their first operational detachment such as Flight Lieutenants Chris Jenkins and Jamie Newton who have been on II (AC) Squadron for just a few months.
Flt Lt Newton is a navigator. After his first Close Air Support mission in Afghanistan a few days ago he said:
You overcome your nerves and use the adrenalin to stay focused.
We were called to help check an area was clear of suspected enemy forces - we then had feedback from the guys on the ground that what we did was of great help - that gives me a real sense of achievement.
Pilot Flt Lt Jenkins added:
It's been a real eye opener coming out here, there is so much more to what we do than you see in the news. We've been too busy to feel nervous, and it's great to be able to work with the coalition forces.
Published 16 June 2010