News story
RAF supports UK's flood relief effort in Pakistan
The Royal Air Force continues to provide air support to the Department for International Development (DFID), assisting the flood relief effort in Pakistan.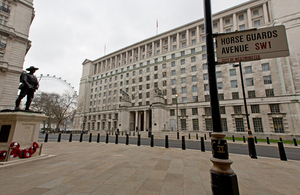 The C-17, based at RAF Brize Norton in Oxfordshire, is the RAF's largest transport aircraft, capable of carrying 73,800kg of freight and 138 personnel over ranges up to 8,300km.
It is already operating every day in the region providing vital logistic support; ferrying supplies and personnel in aid of UK operations in Afghanistan.
The C-17 will take a load of tents and other supplies from a UN store in Dubai to the Peshawar region of Pakistan.
Officer Commanding 99 Squadron, Wing Commander Simon Edwards, said:
I am pleased that the 99 Squadron has been able to help DFID in this important task and that we are able to use the C-17's world-class lift capability in support of their vital humanitarian mission to Pakistan.
The Head of the Department for International Development's Pakistan Office, George Turkington, said:
It's great that the Department for International Development, RAF and the UN are working together to help people in Pakistan whose homes and lives have been washed away by the floods.

This is the second RAF flight we have called in, this time bringing items for the UN, including tents, food and health kits.
Published 16 August 2010