RAF supports French Air Force memorial at York Minster
Royal Air Force personnel from two Yorkshire air bases played a central part in the unveiling of a memorial to Second World War French airmen in York Minster yesterday, including a flypast of 16 aircraft.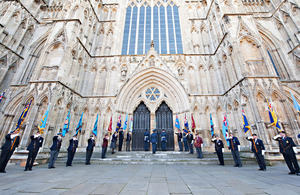 The event, which formed a major part of the 'French in York' week in the city, commemorated the wartime efforts of two Free French Air Force heavy bomber squadrons at nearby RAF Elvington, and was marked with a flypast including nine RAF Tucano training planes from RAF Linton-on-Ouse, a French Rafale jet fighter and the iconic Lancaster Bomber.
Personnel from RAF Linton-on-Ouse and RAF Leeming were on parade both inside and outside the Minster during the commemorations.
The standard of RAF Leeming-based 100 Squadron was paraded during the Minster service, and personnel from RAF Linton-on-Ouse performed the unique Turning of the Page ceremony where fallen air force servicemen who flew from Yorkshire air bases are remembered.
While airmen from RAF Leeming marched past the Minster after the service, supported by the Band of the RAF Regiment, colleagues from RAF Linton-on-Ouse performed a nine-ship flypast in their Tucano aircraft, along with an RAF Typhoon, a French Rafale, French Xingu training aircraft and the Battle of Britain Memorial Flight Lancaster bomber - making this the most spectacular flypast over York in many years.
The event was attended by numerous military and civilian dignitaries, as well as French veterans and their families. Also attending were the heads of both the Royal Air Force and the French Air Force.
Chief of the Air Staff, Air Chief Marshal Sir Stephen Dalton, said:
I am pleased to be here in York today, at one of England's finest cathedrals, to honour the French airmen of RAF Bomber Command.
I am delighted to welcome General Jean-Paul Palomeros, Chief of the French Air Force, who has joined us today for the inauguration of this memorial to commemorate and celebrate the French airmen who flew in Royal Air Force Bomber Command and remember the many who gave their lives fighting for freedom in the Second World War.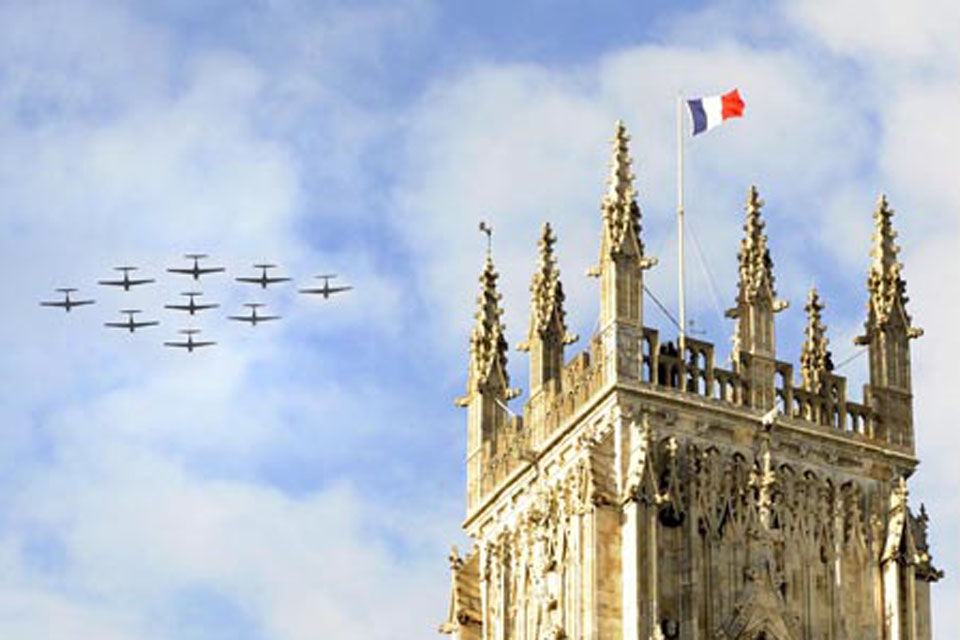 "Today we are joined by many veterans and, on behalf of the people of this country, we thank them and honour them for their contribution during those dark days.
The French airmen were based at Royal Air Force Elvington, now the home of the Yorkshire Air Museum, and it is a fitting tribute that this is also home to an Allied Air Forces Memorial and an outstanding museum that reminds us today how these young French men fought against tyranny. We are extraordinarily grateful for their bravery.
After the ceremony, which saw a crowd of hundreds gather in Minster Yard to watch and applaud the servicemen and veterans, an informal lunch was held in the Assembly Rooms which allowed the congregation, veterans and dignitaries to mingle and share memories.
Published 25 October 2011