RAF students join the Afghan Air Force Thunder Lab
Two recent graduates from the Defence Helicopter Flying School at RAF Shawbury have arrived in Afghanistan to start their two-month embed with their Afghan counterparts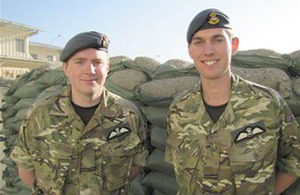 Flying Officers Matthew Smyth and Lee Southward have joined the NATO-led Afghan Air Force Thunder Lab, where they are living with and advising Afghan Air Force pilot candidates in an English immersion programme.
The pilots arrived last month for a two-month stay while they await their final training to qualify on their specific aircraft.
Lieutenant Colonel John Howard, Officer-in-Charge of the Thunder Lab, said:
Flying Officers Smyth and Southward have been an outstanding addition. They have jumped right in and have made a big impact already.
Specifically, they have quickly developed a relationship between the Thunder Lab and the Afghan Air Force Rotary and Fixed Wing Squadrons. This important relationship will enable the Thunder Lab Lieutenants to experience Afghan Air Force flying operations.
Additionally, the Flying Officers assist in English language training as well as present British cultural lessons to better prepare the Afghans for their follow-on training.
Each day they do physical training and share meals with the Lieutenants. While they are roughly the same age as the Thunder Lab 'Eagles' they see differences and similarities.
Upon returning to the UK following their Afghan visit, Flying Officer Smyth will begin training to fly the Puma, a cargo and troop transport helicopter, for 33 Squadron at RAF Benson in Oxfordshire.
Flying Officer Southward will also be at RAF Benson on his return from Afghanistan and will be flying the Merlin helicopter with 28 Squadron.
Both pilots graduated from Multi-Engined Rotary Wing Course No 121 at the Defence Helicopter Flying School at RAF Shawbury on 13 August 2010.
Published 22 November 2010