RAF serviceman saves baby's life
While driving to work at RAF Waddington recently an RAF Air Traffic Controller saved the life of a baby whose distraught mother flagged him down for help as her child had stopped breathing. Report by Neale Adams.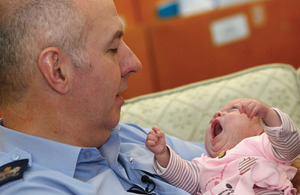 Warrant Officer Ian Phillips, aged 50, was driving to the Lincolnshire station from his home in Grantham when he was stopped in the village of Leadenham by Kerry Vickers whose baby Poppy Jane had stopped breathing and turned 'completely blue'.
WO Phillips said:
At first I thought I was being stopped to help with a breakdown or a puncture, but the woman told me that her baby had stopped breathing. When I saw the baby she was completely blue and lifeless.
Taking Poppy Jane in his arms WO Phillips tried various life-saving techniques that military personnel are instructed in every year as part of their 'common core skills' to revive the baby who was later found to be suffering from viral meningitis:
I put the baby in the back of my car," he explained. "There was no air going in or coming out so she was choking on something.
I tried mouth-to-mouth, but the technique is a lot different to that used on adults as if you blow too hard you can damage the baby's lungs. It did not work.
I moved the baby onto the pavement and tried CPR [cardiopulmonary resuscitation], but just using two fingers on her chest - again a lot more gently than the technique you would use on adults. The baby [which had been born 12 weeks prematurely] was tiny.
The CPR forced milk out of the baby's nose, she started coughing, and then started to take short sharp breaths. WO Phillips continued:
I put her over my shoulder and patted her back. Clear fluid came out of her mouth and then she started to cry. It was the best sound in the world. It was fantastic.
Ms Vickers meanwhile had phoned for the Air Ambulance and WO Phillips used his RAF experience to direct it onto the nearby Leadenham polo field.
A paramedic who lived in the village had joined them and looked after Poppy Jane while WO Phillips went onto the polo field some 40 metres away to guide in the helicopter:
I just copied what I had seen the RAF marshals do when aircraft come into land," WO Phillips said. "The helicopter pilot seemed to be happy with it. I just think I was in the right place at the right time.
Poppy Jane was taken to Lincoln County Hospital where she was kept for nearly two weeks. The 15-week-old baby, mum Kerry and dad Steve Costall have now visited RAF Waddington to say thanks to their RAF life-saver. Ms Vickers said:
Thank you doesn't come close to how we feel about what Ian did for us. No words can ever explain how grateful we are. If he hadn't come along when he did, it could have been a very different story.
Published 8 March 2011