RAF Search and Rescue teams honoured
32 Royal Air Force personnel have been honoured in the latest Armed Forces Operational Awards for their bravery and service.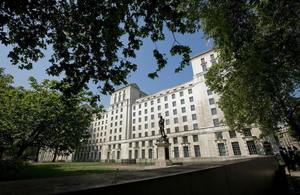 The Arthur Barratt Memorial Prize, consisting of a silver salver and cheque, was presented to Flight Lieutenant Andy 'Spacer' Johnston by Air Vice-Marshal Barry North, Assistant Chief of the Air Staff.
The prize is awarded annually to a member (or members) of the Royal Air Force who has (have) displayed outstanding skill and proficiency in performing the duties of the crew of an aircraft.
Flight Lieutenant Johnston is a Sea King Search and Rescue pilot who was piloting a helicopter while in a hover at 50 feet (15m) above the sea during a night overwater training sortie in December 2010 when one of its engines failed.
Using exemplary handling techniques and fine judgement, Flight Lieutenant Johnston put the Sea King into a dive, descending to 20 feet (6m) above sea level and, using the rotor blade's inertia, successfully regained sufficient forward speed to safely climb the aircraft away from the water.
All this occurred with the aircraft at the absolute edge of single-engine performance, and in close proximity to the sea with relatively poor visual references. After carefully considering and analysing possible causes for the engine failure, it was restarted and the aircraft landed without further incident.
Flight Lieutenant Johnston's prompt reaction to a rare emergency at a critical stage of flight and his excellent handling skills saved his aircraft from ditching into the North Sea.
Air Vice-Marshal North said:
Fight Lieutenant Johnston displayed consummate skill in saving his aircraft under the most exceptional and trying circumstances. I was delighted to present him with the Arthur Barratt Memorial Prize to mark his outstanding professionalism and airmanship.
Speaking afterwards, Flight Lieutenant Johnston said:
I am delighted to receive the award and, in turn, would like to pass on my thanks to the rest of my crew on the evening. It was truly a team effort.
Air Vice-Marshal North also presented a Commander-in-Chief Air Command Team Commendation to the members of 'E' Flight - 202 Squadron's Sea King Integrated Operational Support (SKIOS) engineering team.
This team of civilian personnel, led by Mr George Brooks, provide the Flight's engineering support. Their work has ensured that Search and Rescue (SAR) cover is maintained not only at Leconfield, but they also frequently support other SAR Flights throughout the UK.
Their outstanding professionalism, engineering expertise and 'can do' approach has been widely acknowledged by the whole of the SAR Force and the Sea King Project Team. Air Vice-Marshal North said:
Leconfield's SKIOS engineering team has performed superbly, rising to the challenge of increasing aircraft availability and thereby directly improving the SAR Force's ability to respond whenever the call comes for lifesaving assistance.
Speaking after receiving the award, George Brooks said:
We were obviously delighted to be told of the award. We have an incredibly dedicated SKIOS team here at Leconfield and this award recognises the commitment that they show every day.
Published 24 August 2011