RAF Search and Rescue team rescues fisherman off the Falklands
A Falklands-based RAF Search and Rescue (SAR) team battled storm-force conditions recently to airlift a critically-ill man from a fishing trawler, after the ship's captain made an SOS call, more than 200 miles (320km) from Port Stanley.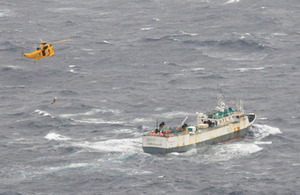 Flying in a stripped-out Sea King into strong headwinds, the RAF crew had a slim 30-minute window to evacuate the casualty and transfer him to the Falkands' only hospital.
A C130 Hercules was scrambled from Port Stanley to help locate the fishing vessel, Jacqueline, and provide top cover during the rescue mission. HMS Portland was also diverted to the area.
Due to the extreme conditions and the seriousness of the man's injuries, Flight Lieutenant Steve Wilders and the crew, from C Flight, 22 Squadron, carried out a stretcher rescue from the deck of the trawler.
Co-pilot Flight Lieutenant Ian Holdom said:
This was a tricky rescue operation because of the conditions and the distance we had to cover.
It was good to know that we had cover from the Hercules, which was ready to assist if anything went wrong.
The man is now recovering at the King Edward Memorial Hospital in Port Stanley.
Trawler owner Mike Summers paid tribute to the RAF team. He said:
We are hugely grateful to the SAR team for their bravery and commitment.
This incident highlights the danger faced by rescue crews working at such distances and in very testing circumstances, sometimes at the limits of endurance.
Without their assistance the outcome would have been very different.
The rescue was the second call-out for the team in just two days. In another incident they were scrambled to a ship 140 miles (225km) south east of Port Stanley.
Published 28 September 2010